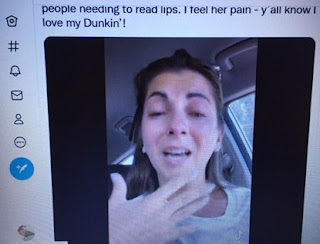 Photo of Deaf Woman
who can't read the Maskers' lips
Good morning sentients. Sometimes we need to see how this hellish psy-op CovID HOAX is impacting those with disabilities in order to put our own suffering and turmoil into perspective. Above is a photo of a deaf woman who is crying after having a confrontation with two Maskers at a drive in food outlet. They refused to accept that she was deaf because she speaks so well and would not take off their masks for a moment so she could read their lips and see what they were asking her to do. This brief video was brought to my attention by FreakedOut who comments:
"This is heart wrenching! My heart goes out to this
deaf woman."
╰☆☆ ᗰEᒪᒪIE ☆☆ ╮ on Twitter: "This is truly sad. Never really thought about deaf people needing to read lips. I feel her pain - y'all know I love my Dunkin'! https://t.co/kp9JC4VzH1" / Twitter
It is a true clue to the real purpose of the masking [control and psychological/physical damage] that the Satanic MZM does not "inform" the sheeple of the disabled who's rights are being trampled and/or find some way to alert servers of the public about the rights of the disabled.
Major Victory for Sentients
This past week Sentients won a significant battle in the War on Humanity. This battle was waged in the oppressed nation of Australia. The General of this Battle was Clive Palmer, the leader of the Australian Opposition Party. Here is the story of this battle told through a series of "Tweets"/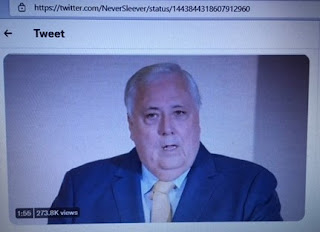 Photo of Australian Opposition
Leader Clive Palmer
Opposition Leader Palmer chose his words very carefully in the press conference above. I suggest readers listen to the above video very carefully. Every word that comes out of his mouth is like a torpedo launched at the enemy from a battle ship. Especially at the end of the video, where he says he has "
personal knowledge
" of what he is accusing and would be happy to talk to police about it. That's the Zinger! Now, in the video below, we have the target of his attack....
NSW Premier Gladys Berejerkoff
resigning not a week later: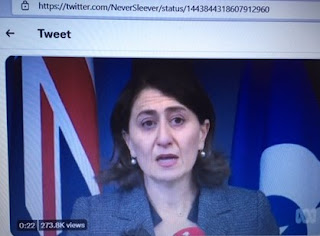 Photo of Former NSW Premier
the now disgraced Gladys Berejerkoff
Greencrow comments: To quote George W. Bush..."Mission accomplished!" Watch the response of the Australians watching her resignation on the Orwellian TV in the Aussie Bar in the tweet link above. Folks, this was a huge win for the Australian Sentients. I recommend readers keep an eye on this story...it will go one of two ways: 1) more resignations in a domino effect, or 2) Clive Palmer will be assassinated.
The jist of the accusation that Clive Palmer made against Berejerkoff was that she was taking "tens of million$" in bribes from Big Pharma to force "Booster" vaxZines on the Aussies. It seems logical to assume now that the first and second doses were largely [though not entirely] placebos to accustom the victims to the idea of being mass vaxZinated. The Kill Shots are in the "Boosters". However, the experiment called for a certain number of the population to be given the "real thing" randomly in all the "rounds" of vaxZinations...just to see how the human body would react.
I saw somewhere on the Internet yesterday a suggestion that the PerpZ are actually money poor but asset rich...and this is causing some concern due to the necessity of mass bribing of "officials" and other "assets".
https://www.henrymakow.com/2021/10/does-moderna-pay-million-to-buy.html?_ga=2.266990793.613169715.1632358583-346964864.1627224119
>
Of course they could always liquidate some of their stocks. Read below: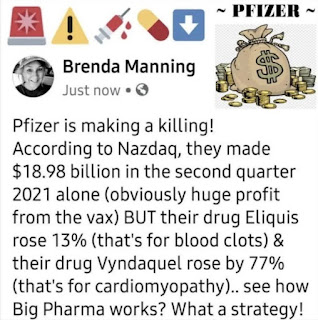 if true, wouldn't surprise me.
H/T Simon Hicks
************
Greencrow continues: The PerpZ have to quickly move that "product" off the shelves and into the arms of the reluctant would-be victims to liquidate their investments and keep the bribes topped up. That's why they were strong-arming/blackmailing Gladys Berejerkoff to push the "Booster". And that's why they're likely strong-arming and blackmailing the Turd to bring in Medical Martial Law to Canada...starting likely in mid-October in tiny [population wise] Saskatchewan:
More info on the Rumoured Medical Martial Law Canadians are now being Threatened With.
Some sentient observers are wondering how this would work given the realities of the Canadian military situation. Please read:
************
",,,the entire cdn army including reserves is 42000 strong
and the entire police force is 68000 strong in a country of 38 million. A lot
of these are pencil pushers. That is 1 cop or army for every 360 people. This is assuming the entire army and cops go along with it. In Alberta right now a lot of rcmp are rebelling against taking the jab.
In Response to Report on Canadian Medical Martial Law
There are 2.3 million registered gun owners in Canada- they
are not disarmed. Gun and ammo sales have gone up since the scamdemic started.
The only way that a total martial law lockdown could
be maintained is using foreign troops in my opinion. There are also vast rural areas to try to control.
A lot of what is going on is a fear psy-op in my opinion
since when it comes right down to it they do not have the actual resources to do
it.
Guess time will tell.
ralph"
H/T John Kaminski
************
And what is happening in Canada? Is martial law next on the Agenda?
Greencrow comments:
Bringing in Medical Martial Law across Canada was always a high priority and always part of the agenda. Each province has already enacted the initiating legislation and so it's ready to go. I feel very strongly that this will happen as the rumour predicts...within the next few weeks...starting in Saskatchewan. Why, the MZM is already priming the propaganda pump:
And, in a touch of mind-blowing irony...we have the MP's in the former Soviet vassal Poland rising to support the Aussie warriors:
Polish MPs Demand Warsaw Condemns Australia's Insane Asylum Regime
"What is happening in Australia? […] We cannot sleep. It maybe on the other side of the
world, but we should nevertheless realize that if we don't protest now; if we don't publicize the disturbing situations, perhaps we will have these sorts of situations in Poland. Where you can be jailed at home, and so we expose this murderous style [of governance] growing in Australia."
https://anti-empire.com/polish-mps-demand-warsaw-condemns-australias-insane-asylum-regime/
Meanwhile...far from the glaZed eyes and blocked ears of the Sheeple...the vaxZine carnage continues:
Here are some links submitted by my loyal warrior readers: H/T
FreakedOut
BOOSTER SHOTS: The Deadly HOAX Will Cause MASS DEATH!
https://rumble.com/vn7btb-booster-shots-the-deadly-hoax-will-cause-mass-death.html
***************
H/T Cris Vleck
Lots of RFP's for body removals popping up.
https://www.bcbid.gov.bc.ca/open.dll/welcome
I asked for more info on the RFP above and was sent this:
"If you go up to the upper right hand corder you'll see attachments for the RFP and can see the documents themselves.
Note- some of these are expanded scope. Meaning they underestimated the amount of services they would require. There was another one to cover a few towns in the interior but I didn't see it this time around.
I tried to post the individual community links Cris sent but Blogger would not allow.
***************
And then I was sent this "employment opportunity" by another contributor:
FYI...Growth industry. Great opportunity.
Job Details:

Full-time · CA$200
/ day

Posted 2 weeks ago: Job Description

We are a dedicated team of Body Removal Agents responding to sudden and expected home deaths. We perform morgue transfers as well as transporting decedents to several local funeral homes from throughout the Lower Mainland. Our territory extends from West Vancouver to Boston Bar. We work 24 hour, on call, shifts and perform a variety of tasks related to the dignified and professional removal of deceased persons. This job is well suited and an excellent stepping stone to those who are seeking a future career with Police, Fire and Paramedics as well as Security, Prison and Border Services. Those who have recently finished a career with any of the aforementioned groups would be a welcome addition to our team. Salary is based on experience. Training with a professional will be provided. We are currently seeking people in the New West, Burnaby and Vancouver areas. If you're interested, please respond to this ad stating your qualifications and your location. Employees must provide a criminal record check and ICBC driver's abstract. Vehicle provided. Must be able to work on call for 24 hours. Must be able to work weekends.
VANDEN BOSSCHE & MALONE: COVID-19 GIANTS UNITE
The 'wonder' material being put in vaccines might be the biggest killer in history – graphene oxide.
Sometimes the Little Guy Can Shut Down Government
https://www.armstrongeconomics.com/world-news/civil-unrest/sometimes-the-little-guy-can-shut-down-government/

>

************




Greencrow continues: This is something I have been very disturbed about ever since my adult son got vaxZed. Would my grandchildren be harmed by the spike Proteins that his body has now been ordered to manufacture by the DNA modifying synthetic mRNA? FreakedOut supplied this link this morning that addresses that concern:
FreakedOut
"HI gc:
I just picked a fairly new post at the Rense site of
an interview with Karen Kingston that may be of interest to you:
'Medical
Analyst' Karen Kingston...Unvaxed
at Risk from Vaxed in Coming Dark Winter
Quoting the article:
"Kingston says there are also cases of vaxed parents infecting their unvaxed children. Kingston says, "If you look at the weekly morbidity and mortality reports from the CDC in August, they showed . .
. that there was a major spike in cases of hospitalization in children between 1 and 4 years old, then 5 and 12, and 12 to 18 beginning in January and going up very quickly. Well, the children were not supposed to be vaccinated. That's correct–the parents are. As parents get more and more vaccinated, the children, particularly 1 to 4 year olds, are the highest
spike in hospitalizations due to Covid. Children never got Covid
before. What they are getting is Covid from their parents being
vaccinated."
AND:
"Kingston gives ways to minimize the risk for the unvaccinated and also some help for the vaccinated with a supplement called NAC."
You can obtain NAC from here:
I'm a regular customer of iHerb.com.
Hope this helps."
FreakedOut
************
Greencrow concludes:
Summing up the past week I would say--after flying high like a crow and seeing the broader picture--that it was overall a very good week in this bloody existential War on Humanity. We have to take our victories where we find them. Last week we saw a huge battle won in Australia where a major drug Kingpin [or "Queenpin"] was taken down. We also saw here in Canada where the Turd ran out to Tofino for "high level" meetings with some surf waves...aka fellow cabalists to discuss the coming court case lodged against the Bullshitter...as well as the major invasion aka Medical Martial Law they're plotting for Saskatchebush.
Next week could be pivotal in this war and there will be much more to blog about...but for this week I will leave the final word to a quote sent my way by
American GATCF Bureau Chief FreakedOut
:
************
'Fortunately, some are born with spiritual immune systems that sooner or later give rejection to the illusory worldview grafted upon them from birth through social conditioning. They begin sensing that something is amiss, and start looking for answers. Inner knowledge and anomalous outer experiences show them a side of reality others are oblivious to, and so begins their journey of awakening. Each step of the journey is made by following the heart instead of following the crowd and by choosing knowledge over the veils of ignorance."
-Henri Bergson