FIRST THE GOOD NEWS: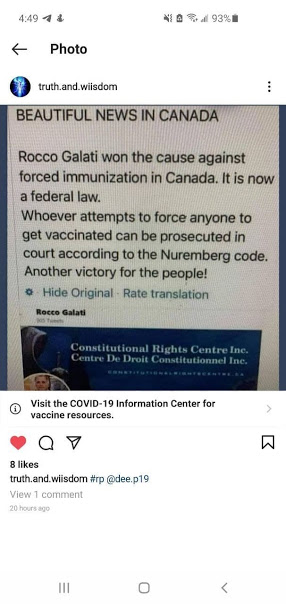 H/T FreakedOut
NOW THE BAD NEWS:
Canadian Sentient Alert!
H/T L. Cote from the Librti.com Website - :"Trudeau buried this National Advisory Committee on Immunization (NACI) policy document that was adopted June 2020. NACI basically advised and the government accepted that all Canadians participate as human lab rats for the COVID-19 "vaccines". Wow I must have missed this important news flash on CBC, CTV or Global TV? Oh wait, were the Canadian people ever informed of the government policy enrolling all Canadians into the clinical trial?
Not unless you read the NACI policy papers.
This document discusses all the inclusion criteria – such as "healthy volunteers…pregnancy-specific safety data arising from participants unknowingly pregnant at the time of vaccination…stratification of age groups is recommended to determine the relative immunogenicity and efficacy of the intervention…" They even breached their own ethical standards for "research involving humans". I really appreciated that they cover "Considerations for late phase clinical trials and post-market studies:".
Yes folks our government really "cares" about us…we should trust a group of distant folks sitting in Ottawa who signed up the entire Canadian population to take part in this clinical trial for the Big Pharma. Not only that we, the "lab rats" paid and continue to pay millions of tax payer dollars for this privilege. Well maybe not."
See more…
Archived: Research priorities for COVID-19 vaccines to support public health decisions – Canada.ca
National Advisory Committee on Immunization (NACI): Statements and publications - Canada.ca
Also...watch this BREAKING NEWS VIDEO TESTIMONY FROM A UK NURSE WHISTLEBLOWER
*Share This Everywhere* Senior NHS NURSE Involved In UK 'Vaccination' Programme Calls it Genocide (bitchute.com)
https://www.bitchute.com/video/2hT5HAdXmnYy
****************
And watch this Press For Truth video where real journalist Dan Dicks reports that "fully vaccinated" individuals are still getting "the Covid" and ModeRNA saying that "booster shots" will be required on a yearly basis!
****************
Greencrow comments: Re the criminally secret agreement between the Lil Turd Jr and the NACI.
How much more Toxic Bull Shit...before all Canadians rise up as one and scream...
ENOUGH!!!???