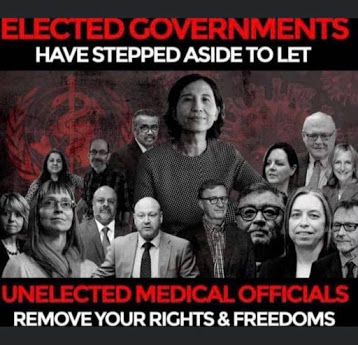 And now these totally corrupt "governments" are planning on having

"remote, virtual (s)elections

"

...so the electorate will never be able to take them to task about it. Wait for it...
Good morning readers. It's a rainy, grey day on the Pacific Wet Coast and I do want to spend most of today sewing so this will be a short compendium of links that I have saved during the past week. Below is the usual Bull Shit Propaganda slop they're feeding to the Sheeple...who are lapping it all up like the good little barnyard animals they are:
COVID-19 vaccines may require regular updates until infections die down, study suggests
Coronavirus: COVID-19 vaccines may require regular updates until infections die down, study suggests | CTV News
Brooke Taylor
CTVNews.ca Writer
TORONTO -- Just like influenza vaccines, which are adjusted each year to combat viruses as they change and mutate, COVID-19 vaccines may need similar alterations until infection rates decrease, a recent study suggests.
Influenza viruses are fast-changing, making it difficult for the human body to build an immune response, which is why the flu vaccine is altered and encouraged for everyone each year.
In SARS-CoV-2, the virus that causes COVID-19, mutations allowing it to evade antibodies have already cropped up in the B.1.351 and P.1 variants. Because of this, vaccine producers such as Moderna, Pfizer, AstraZeneca and Johnson & Johnson are already working on boosters for their vaccines to be more effective against variants.
A team of researchers from a German research hospital, Charite-Universitatsmedizin Berlin, looked at four common cold coronaviruses that infect humans by the same spike protein mechanism that SARS-CoV-2 uses.
The research, published in the journal Virus Evolution on March 20, focused attention on two of the longest known coronaviruses and studied their evolution over the course of 40 years, according to a press release. Researchers built a phylogenetic tree - a tree-shaped diagram that shows the evolutionary process of various specimens and species - showing the evolutionary progress of the coronaviruses.
They then compared it to the phylogenetic tree of H3N2, a strain of the influenza virus that is known for its ability to evade the immune response.
Researchers found a similarity in their comparisons: they all had a ladder shape.
"An asymmetrical tree of this kind likely results from the repeated replacement of one circulating virus variant by another which carried a fitness advantage," the study's first author, Dr. Wendy K. Jo from Charite's Institute of Virology, said in the press release.
"This is evidence of 'antigenic drift', a continuous process involving changes to surface structures which enable viruses to evade the human immune response. It means that these endemic coronaviruses also evade the immune system, just like the influenza virus. However, one also has to look at the speed with which this evolutionary adaptation happens," she added.
Researchers were able to determine the speed at which the viruses evolved, with influenza viruses mutating four times faster than the coronaviruses, the release said.
"As far as SARS-CoV-2 is concerned, this is good news," Dr. Christian Drosten, Director of the Institute of Virology and a researcher at the German Center for Infection Research, said in the release.
However, SARS-CoV-2 is mutating at a faster rate than the coronaviruses in the study, but researchers believe this is due to the rate of infections across the globe.
"Based on the rates of evolution seen in the endemic common cold coronaviruses, we expect that SARS-CoV-2 will start to change more slowly once infections start to die down," lead study author Dr. Jan Felix Drexler, said in the release.
Once the COVID-19 pandemic has stabilized and numbers being to drop off in earnest, vaccine updates will become less common, but until then they will need to be altered for variants, the release said.
"We expect therefore that COVID-19 vaccines will need to be monitored regularly throughout the pandemic and updated where necessary. Once the situation has stabilized, vaccines are likely to remain effective for longer," said Felix Drexler."
Greencrow continues: Yes, the stunned bunnies are already being prepared for a lifetime of never-ending vaccination "updates" to the operating system that is being installed in them as we type.
Folks, In the past week or so in our neighbourhood some people have been complaining of "flu-like symptoms"--such as stuffiness, random aches and pains, lack of ability to smell and/or taste, sleeplessness and general feelings of being under the weather. Of course, some of them immediately jumped to the conclusion that
they had THE COVAIDS!
But at the link below, sent to me by long time researcher
Arthur Firstenberg,
there is evidence that
these symptoms could be caused by the continuing roll out of the 5G.
..which has been planned to
synchronize with the CovID HOAX,
so the sheeple will never know they're being subjected to intensive radiation just at or below the lethal level for living organisms.
What follows in the rest of this post is the Firstenberg link to the recent launch of thousands of 5G satellites...and then more links and tips that I received over the past week from my wonderful war correspondents all over the world:
On Wednesday, March 24, 2021, both the number of satellites in low orbit around the earth, and the volume of data they transmit, increased significantly.
On
Wednesday morning (4:28 a.m. EDT, 8:28 UTC), SpaceX launched another 60 satellites. On Wednesday evening (10:47 p.m. EDT, 14:47 UTC), OneWeb launched another 36 satellites. And people who already have satellite Internet from SpaceX on a trial basis reported a sudden increase in their Internet speed on Wednesday to up to 430 Mbps.
This could explain the reports I am beginning to receive of sudden illness that began on Wednesday. I myself was unable to sleep at all Wednesday night, and my body hurt, and itched, all over. I was very ill all day Thursday, and still do not feel well. I have received similar reports from other people in the United States, Canada, Norway, Australia and South Africa.
I would like to find out how widespread this is. Some people are reporting that they have not felt well for a couple of weeks, but that they suddenly got much sicker Wednesday or Wednesday night. Please reply to this email if you have experienced something similar.
Current Players and Their Plans
Here is a list of companies that are actively planning to launch and operate large constellations of satellites in low orbit around the earth. The purpose of these
satellite networks is to provide Internet and/or cell phone service everywhere on earth, as well as to facilitate the Internet of Things. All will shoot focused beams of radiation at the earth from phased array antennas.
SpaceX SpaceX, based in the United States, already has approval to operate 12,000 satellites and has filed applications for 30,000 more. More than 1,300 have already been
launched. At least initially, these satellites are for Internet only and will not communicate directly with cell phones.
Subscribers will purchase a small rooftop dish and a WiFi router. Beta testing by an estimated 10,000 subscribers in the U.S., Canada, U.K., Germany and New Zealand is already happening.
OneWeb
OneWeb, based in the United Kingdon, has already launched 148 satellites, and plans to begin providing service after it has 250 satellites in orbit. Initial service will be to northern latitude regions, including the UK, Europe, Greenland, Canada, and Alaska. OneWeb plans to provide cell phone as well as Internet service. Subscribers will purchase a small user terminal that will function as a small cell, able to connect to any mobile device in its vicinity. OneWeb has scaled back its planned number of satellites from 49,000 to 7,088. It does not plan to compete directly with SpaceX.
Instead it will market its service to airlines, businesses and governments.
Telesat
Telesat, based in Canada, has increased its planned number of satellites from 117 to 1,671. It, too, is marketing its service to businesses. Its customers will include cruise ships, airlines, and governments. Telesat intends for its satellites to replace terrestrial fiber networks for long-distance communication. "We're basically deploying a big space-based mesh IP network," said its CEO Dan Goldberg. AST & Science This company, based in the U.S., is designing its satellites to communicate directly with cell phones. But instead of selling its service directly to cell phone users, it will partner with existing cell phone service providers, so that when a cell phone user travels out of range of any cell towers, the cell phone's signal will automatically be handed off to a satellite.
While this company does not plan to have as many satellites as its competitors, the power levels of its communicating beams will be much greater. Its application to the FCC specifies a maximum EIRP (effective radiating power) of up to 79.2 dBW, or more than 83,000,000 watts per beam.
Omnispace
This company, partnering with Lockheed Martin and the U.S. military, is also designing its satellites to communicate directly with cell phones. Its brochure boasts that it will "enable the Internet of Things on a massive new scale." "Omnispace is honored to have been selected to work with the U.S. Navy and Marines to demonstrate 5G capability from space," said Campbell Marshall, Vice President for Government and International Markets in a March 15, 2021 interview.
Omnispace has an experimental license from the FCC and has not revealed how many satellites it plans to operate. Amazon Amazon's application to operate 3,236 satellites was approved by the FCC last July. Like SpaceX, it plans to sell small user terminals to its customers for mounting on rooftops and vehicles.
Lynk
Like Omnispace and AST & Science, Lynk is designing its satellites to communicate directly with cell phones. Like AST & Science, Lynk has an experimental license from the FCC and has not revealed how many satellites it plans to operate.
Facebook
Facebook is planning to launch a constellation of small, 150-pound satellites, called cubesats. It too has an experimental license from the FCC and has not revealed how many satellites it plans to operate.
Arthur Firstenberg
**************
Greencrow says
: the above update on the
5G rollout and Satellites
is important because it reminds us that the CovID HOAX and the possible bioweapons associated with it, including "vaccines" are not the only threats to human health these days. If we are not feeling well we also need to look around to see what the status of the 5G rollout is in our area.
The truth is, humanity is been attacked on all sides. Here is a short list of links sent to me last week by fellow blogging colleague John Kaminski:
**************
Sabotaging the world
When will we realize that we're under attack?
Dr. Sherri Tenpenny: Expected 50 million deaths low estimate
http://allthatstreaming.com/media/ats/audio/dr-sherri-tenpenny.mp3
Dr. Lorraine Day: They Want You Dead
http://allthatstreaming.com/media/ats/audio/dr-lorraine-day-they-want-you-dead.mp3
Dane Wigington: Aftermath Of Chemical Ice Nucleation
https://mailchi.mp/geoengineeringwatch/aftermath-of-chemical-ice-nucleation?e=83a8ddb46e
Ice Age Farmer: Suez Canal Blocked: A "Worst Case Scenario for Global Trade"
https://www.youtube.com/watch?v=Uy5oym-qFn4&t=9s
Courtesy of johnkaminski.org
**************
Plus more devastation on the vaccines
Moderna begins COVID-19 vaccine study in children as young as six months

On Tuesday, Moderna announced that the first children have been vaccinated as part of the company's Phase 2/3 pediatric COVID-19 vaccine study. The clinical trial is expected to enroll 6,750 healthy children in the US and Canada between the ages of six months and 11 years old.
**************
Greencrow says: This is just heinous. Who or what parent would volunteer their child for such genetic tampering? I wouldn't even volunteer my cat...if I had one.
Reality Vax Class
Kids talk about vaccines
https://twitter.com/i/events/1371806354797596674?s=09
FreakedOut
1,739 DEAD as CDC Adds Another 200+ Recorded Deaths this Week Following COVID Experimental "Vaccines"
Husband of Toronto's 'Top Doctor' arrested for fraud – Conservative Beaver
CovID Corruption all the way...
**************
Simon Hicks sent me several links last week [copied below and says:
I am sure you're inundated with articles. It is a positive sign because people are waking up! It is sad because all the news is so horrific.
Here is another one.
https://www.zerohedge.com/covid-19/italy-launches-manslaughter-investigation-teacher-dies-hours-after-getting-astrazeneca-jab
https://www.marketwatch.com/story/sweden-halts-astrazeneca-vaccine-use-as-ema-says-no-indication-shot-causes-blood-clots-11615906213?mod=canadian-markets
"
Coronavirus latest news: Halting AstraZeneca vaccine is a 'disaster' for jab uptake in Europe"
Coronavirus latest news: Halting AstraZeneca vaccine is a 'disaster' for jab uptake in Europe (telegraph.co.uk)
(1) Fully vaccinated people can gather indoors without masks, CDC says / Twitter
We've known about weather warfare for a very long time as it was used during the Vietnam war & since.
https://usawatchdog.com/the-dimming-a-must-watch-new-documentary-by-dane-wigington/
Radiation-COVID Connection: Study Analyzes RFR & EMF Link to COVID (thefreedomarticles.com)
Simon Hicks
**************
The managers of the Internet NewZ never miss a trick. Here they are planting a story about
CJD aka Prion Disease aka "Mad Cow" disease...
so that later when the vaccinated start developing symptoms from the "vaccine".... they can chorus in unison "it's all a BIG mystery...we have
NO
IDEA why they have those symptoms!
New Brunswick monitoring more than 40 cases of unknown neurological disease | CBC News
Next, from Ed(itor) who is talking about one of my favourite spies aka former intelligence officers, Scott Bennet: I invite readers to delve into the links below and then report back in the comments as to what's up with Scott:
Shell Game: A Military
Whistleblowing Report to Congress (Part One), Scott Bennett
https://robertdavidsteele.com/shell-games-with-scott-bennett-part-1/ [46:43] [Part Two is below]
www.shellgamewhistleblower.com [Please explore this site]
To see more great information like this, to learn more about this channel, to subscribe and to see the original video, please go here: to see the original video, please go here
I just bought his book "ShellGame" as well as The-911-truth-memos/. I had previously purchased this book; Scott was confused as to why I chose that one to begin with, and the answer is simple: Having explored the topic previously, I reasoned that it would tell me whether or not he was "the real deal".
[Ed.: He is. He's as real as it gets. Of those I have met and learned about in my two decades of research and six of life, he makes the top five.]
**************
Finally, Greencrow wrote last week:
...More about the vaccines and adverse reactions later but first I want to explain why I don't report anymore on happenings south of the border, particularly related to presidential politics and/or False Flag mass shootings like the one in the link below:
Boulder Attack Is Seventh High Profile Mass Shooting Where Attacker Was Known To FBI Beforehand | From the Trenches World Report

The answer is simple. I don't report on American presidential politics or the resumption of the never-ending stream of False Flag mass shootings under Biden because: They are totally irrelevant and have no consequence..."
Well, James Corbett backed me up on that in the latest Corbett Report Episode linked below, wherein he updates us on what the "new Biden" administration has planned in the way of foreign policy...spoiler alert....absolutely nothing...any different from what's been going on since the Kennedy administration/end of the US Republic.
James Corbett of The Corbett Report
Exposes Biden's "secret plans"
But I do recommend you watch the report because there have been some highly significant Biden Administration appointees that Corbett discusses at the end. These appointments give us a window into the coming shenanigans.