Greencrow Reports on a Hunch Her Spideys
have Given her about the Cdn Military
Hi Folks. First of all a correction: I loaded this up on YouTube, not "Google" as I say in the video. So I don't know how long this video will stay up. As I said in my video I've have been closely watching the latest stage-managed "scandal" in the Canadian Military. As you will see by reading the links below, within the last month, TWO top Generals in Canada have been forced to "step aside" due to allegations of sexual misconduct. The latest incident relates to an allegation dating back to 2010. That certainly raises red flags to me. Why was this General appointed Canada's TOP general without appropriate vetting beforehand??? Please read the following reports and I'll present what my spideys conjecture is going on afterwards: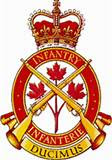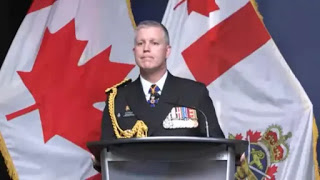 "Latest Former" Defence Chief
Admiral Art McDonald
Canada's new top military commander steps aside following sexual misconduct claim | CBC News
Military reeling as new defence chief steps aside amid allegations of misconduct
OTTAWA — The Canadian Armed Forces is reeling after news
defence chief Admiral Art McDonald is being investigated for misconduct, only weeks after military police launched an investigation into allegations against his predecessor.
Defence Minister Harjit Sajjan revealed late Wednesday McDonald had "
voluntarily stepped aside"
while military police investigate unspecified allegations.
McDonald took over as the chief of the defence staff last month from Gen. Jonathan Vance, who is being investigated after allegations of inappropriate behaviour.
Vance has denied any wrongdoing and McDonald has not commented.
Canadian Army commander Lt.-Gen. Wayne Eyre has been appointed acting chief of the defence staff.
Conservative defence critic James Bezan called Thursday for the government to reveal the nature of the allegations against McDonald, who used his first address as defence chief on Jan. 14 to apologize to victims of military sexual misconduct and hate.
"In the interest of morale, and for our women and men in uniform to have confidence in the senior leadership of the Canadian Armed Forces, Minister Sajjan must confirm why chief of defence staff Admiral Art McDonald is under investigation," Bezan said in a statement.
The new allegations have added to the chorus of calls for external oversight of the military, which self-polices allegations of sexual misconduct in the ranks.
Lawyer and retired colonel Michel Drapeau said the government needs to appoint a permanent and independent inspector general similar to that of other militaries.
That person would have the investigative powers to look into allegations of wrongdoing within the Canadian Armed Forces.
"If, during his investigation, he came across any evidence of a criminal nature, he would be duty bound to stop his investigations and turns the matter to the criminal police," Drapeau said in an email.
Barring that, Drapeau said Sajjan should immediately convene a board of inquiry – perhaps headed by a military judge – to investigate the allegations against McDonald, with police only involved if the allegations are of a criminal nature.
Should police become involved, Drapeau added, it should be the RCMP.
"I do not have confidence in terms of training, experience and independence," Drapeau said of the Canadian Forces National Investigation Service, the NIS.
"Additionally, (the military police) and NIS report to the vice-chief of the defence staff, which makes any claim of 'independence' illusory."
In addition to criminal offences, Canadian military personnel can also be charged with what are known as service offences, which usually relate to inappropriate conduct such as drunkenness and having a relationship with a subordinate.
Former naval reservist Marie-Claude Gagnon, who founded a group for survivors of military sexual misconduct called It's Just 700, has been raising concerns for years about gaps in the system.
She said the time for external oversight of the Armed Forces is now.
"External oversight, it's essential," Gagnon said. "Self-policing itself has never worked. ... It's not a recipe for success. I'm hoping that there's no doubt that there needs to be oversight."
This report by The Canadian Press was first published Feb. 25, 2021.
Lee Berthiaume, The Canadian Press
Greencrow Continues:
Any truther worth their salt is familiar with Kay Griggs and the series of interviews she gave several decades ago about endemic corruption in the US Military. Here's one of her videos below. If you've never watched any of her videos please take the time to watch at least one to get the idea of what she was whistleblowing about.
Kay Griggs - former Wife of US General
tells how PerpZ maintain Control of
the Armed Forces in the West
Well, the greencrow flew high and was able to connect the dots between Kay's revelations and what is now going on at the highest levels between the Lil Turd Jr. Corrupt Globalist Asset "Government" and the Canadian Military. I believe these two Generals were likely
reputationally destroyed/hounded out of their appointed positions
due to
their refusal to command the Canadian armed forces to set up military camps and operations all over the country and force Canadian citizens
to either submit their bodies to the Experimental Gene Therapy mRNA injections...or be dragged off to
military-run gulags in a Police State
. Will the
third General
that will now be appointed be the charm? Will he or she see
what happened to the first two generals
and...due to fear of the same fate...kowtow as ordered? Will he or she then do the bidding of the criminal conspirators?
Stay tuned.
~~~~
(Some comments made about this:)
Anonymous said...
Anonymous(X) here:
Just to play it safe and cover all bases..
.... I don't trust anybody above the rank of dogcatcher !
February 26, 2021 at 1:29 PM
https://greencrowasthecrowflies.blogspot.com/2021/02/whats-going-on-in-canadian-military.html?showComment=1614374952861#c7155016996763498695

---
greencrow said...
Hi Anonymous [X]
IMO Canadians need to watch the military closely because the next major escalation in the oppression/Tyranny will involve our military vis a vis
a) Vaccination Roll Out
b) Quarantine camps for dissidents
We need to keep our eyes on the bouncing ball.
February 26, 2021 at 2:16 PM
https://greencrowasthecrowflies.blogspot.com/2021/02/whats-going-on-in-canadian-military.html?showComment=1614377816362#c6857266505516468290

---
Anonymous said...
If we lose faith in all of our institutions then we will be ready for the replacement institutions which will all be controlled and populated by the ((destroyers)) of all civilisation.
It's not just a war for our minds, that is merely stage one. No, it's a war for our survival. These suntan challenged individuals are too difficult to control so the more who are eliminated the easier it will be for our would be controllers to act out their warped and sick fantasies which they have reserved for us in order to enable their power tripping.
So whether the two individuals are guilty or not, it's the stage management which will be the most important element. Then our armed forces can be sent to a mediterranean climate for "proper" training in how to shoot defenceless civilians.
Anonymous #6
February 26, 2021 at 4:01 PM
https://greencrowasthecrowflies.blogspot.com/2021/02/whats-going-on-in-canadian-military.html?showComment=1614384103669#c2044060733216485259

---
greencrow said...
Hi Anonymous #6
"...whether the two individuals are guilty or not, it's the stage management..."
As usual, that's what tipped me off to a possible caper...the "B" movie stage management.
Total destruction of the reputations of two long time, loyal, career public servants? There MUST be something more at play here. Let's be frank. The PerpZ don't give a shit whether one or both of these men groped anyone 10 years ago. No. These men are being pilloried for not going along with the agenda...THAT's the ONLY "moral" requirement EVER demanded by the perpZ.
February 26, 2021 at 4:37 PM
https://greencrowasthecrowflies.blogspot.com/2021/02/whats-going-on-in-canadian-military.html?showComment=1614386269103#c4144871644401168202

---
CanadianNotCommunist said...
Good catch Greencrow.
I expect your "spideys" are right on once again.
If you have time, take a look at the article by Caitlin Johnstone on your blogroll on the right. It's titled, "The People Haven't Risen Up For The Same Reason Abuse Victims Don't Leave Their Abusers."
Food for thought. Perfect correlation.
February 27, 2021 at 7:45 AM
https://greencrowasthecrowflies.blogspot.com/2021/02/whats-going-on-in-canadian-military.html?showComment=1614440715330#c7393538006385680834
greencrow said...
Hi CanadianNotCommunist:
Thanks. I will have a look at that article.
This Plandemic HOAX dynamic IS very much like domestic abuse, IMO.
February 27, 2021 at 8:15 AM
https://greencrowasthecrowflies.blogspot.com/2021/02/whats-going-on-in-canadian-military.html?showComment=1614442544346#c6609655580009419717
Anonymous said...
Anonymous(X) here:
Personally speaking, don't really have much respect for North American military, given they have effectively signed on to blindly follow orders, which may lead to murder of parties deemed hostile etc. by their Gov'ts and potential to be Gov't goons for martial law.
North America has never been attacked, but these same military forces serve the Banksters interests either by destroying sovereign nations and/or creating huge defence department budgets.
To path to get to the top is becoming more transparent via Epstein fiasco, ie one HAS to be compromised. In Canada, with two top military officials likely had "dirt on them" and they both realized that trigger could be pulled ANY time for whatever reason, that's how the promotion game is played .
Yes, as GreenCrow postulates, they may have stood up to the COVID vaccination issue but if they were clean they could have stepped forward and made their views clear.
Via this, it is likely the party who replaces them will also have skeletons in their own closet but will play ball. Given Turdeau's past habits, my guess is he will pull the Politically Correct card aka NON WHITE and FEMALE...maybe even LGBQT.
February 27, 2021 at 9:35 AM
https://greencrowasthecrowflies.blogspot.com/2021/02/whats-going-on-in-canadian-military.html?showComment=1614447322637#c3194166457561426626
greencrow said...
Hi Anonymous [X]
Perhaps the two Generals did NOT have dirt on them. Perhaps the PerpZ made it up out of whole cloth lies. General Vance has denied the allegation(s). Incidentally, I have not read the allegations in either case...for the same reason I don't pick up dog shit with my hands.
The way the MZM has slathered and drooled over the allegation to me is proof positive they are concocted. No doubt they will find a suitable flunkie to "do the job".
Perhaps the military realize that should they go along with the Covid Communist agenda...then they will hasten their own demise as a career/function of government. Their careers depend on Canada being a constitutional democracy...not a Police State. When it devolves into a police state they will bring in their SWAT/Israeli trained goons and get rid of the army altogether.
February 27, 2021 at 11:47 AM
https://greencrowasthecrowflies.blogspot.com/2021/02/whats-going-on-in-canadian-military.html?showComment=1614455238268#c450297474799289077

~~~~~~~~~~~~~~~~~~~~~~~~~~
---
---
---and then a follow-up from http://greencrowasthecrowflies.blogspot.com/2021/03/are-vaccine-companies-blackmailing.html
~~~~~~~~~~~~~~~~~~~

Monday, March 1, 2021
Are Vaccine Companies Blackmailing the National Militaries of Western Countries...including Canada?! PLUS: Sajjan vows action on 'culture change' within Canadian Forces...... Interviewer points out "Double Standard" applied in investigations re both Generals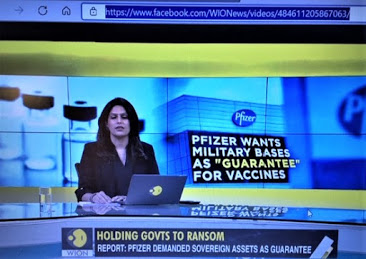 Watch this Video. Is this why Canada is blackmailing
and dismissing it's Chief of Defence Generals????
This is a very important "Must Watch/Listen" video. It is a game changer. What IS going on in Canada's military?!!!! First watch the video above...then watch the video below and connect the dots!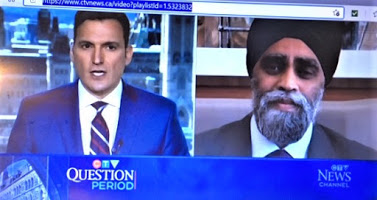 CTV's Evan Solomon and Cdn Defense Minister Harjit Sajjan
NOTE: Please watch and read my first post on this explosive topic that I put up over the weekend. Then read the update below:
Defence Minister Harjit Sajjan is one of the worst of the worst Parliamentary bull shitters. Listen to him...he sounds like a back alley hit man...'dese, 'dem and 'dose. He sounds very stupid...just the right kind of 'Yes Man' for 'Lil Turd to put in that position...someone who's so grateful to have any job at all that he's willing eager to absorb the flack that follows transparently dubious reputational hits on two top military generals. "We can't tell you why we hounded them out of office--to protect the integrity of the investigation...but we can plant all sorts of anonymous, leaked innuendoes in the MZM". Rumours and rumours of rumours...that ultimately will destroy the Generals' reputations--no matter what our kangaroo court investigations finally turn up.
Finally, what is the "Culture" that needs so badly to be changed that the Liberal Turd government is willing to throw two career soldiers under the bus? IMO, it's the culture of loyalty to the military rank and file...and not to the globalist Plandemic/Scamdemic HOAX agenda. IMO, that is the ONLY happenstance that would lead to such a ballz up!
'Roar and be heard': Woman behind Vance allegations calls for independent investigation - National | Globalnews.ca
What is really behind this headline?????
Trudeau denied Defence Production Act while staffers talked amendments for "greater authority" - Rebel News
Finally...Just announced...the National Guard is going to go door-to-door to vaccinate the elderly in Texas...this supports the above allegation--that the Big Pharma/Technoligarch perpZ are trying to corrupt the military to attack their own citizens with the mRNA Experimental Operating System Injections.
~~~~~~~~~~~~~~~~~~