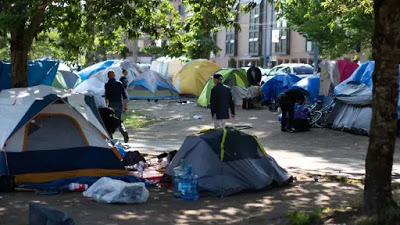 Homeless Tent City in Oppenheimer Park
Downtown Vancouver, BC
Sunday morning and time for some musings on the current state of the Plandemic/Scamdemic. Jesus said: "
The Poor You Will Always Have With You .
" Yes, we've always had poor in our society but it's only in the last several decades that they've set up Tent Communities in every major city in North America. Some individuals have
lived homeless for almost their entire lives.
For decades there was no answer, no solution to the growing blight on urban centres. Garbage, waste, needles everywhere.
But, suddenly, with the onset of the Plandemic/Scandemic Hoax...all of that seems about to change. The Provincial government in British Columbia seems to have, finally and at long last, grown a heart. According to a newZ story sent to me by regular contributor RAH, a sea change in the approach to dealing with homelessness seems on the horizon:
****************
RAH says: "Subject:
update to 'your money at work' [BC Prime Minister John] Horgan and crew use Howard Hughes tactics to house homeless.
Somebody is having a good day. Approx 75% over market value?
"B.C. buys two Vancouver hotels for homeless
The $74.4 million in deals follows the purchase of two Victoria hotels to house people living in tent encampments in the capital city
Frank O'Brien Western Investor
June 25, 020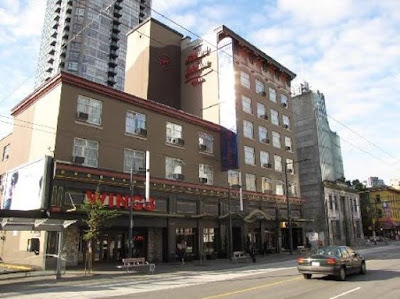 Howard Johnson hotel bought for $55 million.
The B.C. government has bought a 110-room hotel on Granville Street and 63-room hotel in the Vancouver's West End to house the homeless and others in immediate need, and provide long-term affordable housing.
The acquisitions, worth a total of nearly $75 million, follows the province's recent purchase of two hotels in Victoria for to house homeless from two tent encampments in the capital city.
The Vancouver deals are the 110-room Howard Johnson Hotel at 1176 Granville Street, bought for $55 million, and the Buchan Hotel at 1906 Haro Street, bought for $19.4 million. The Buchan will provide housing with supports for women. The hotel is empty, and residents will begin moving into the Buchan in July.
"Housing is the foundation of people's lives and of healthy, safe communities," said Selina Robinson, Minister of Municipal Affairs and Housing. "We're taking action to build more affordable rental homes in Vancouver, as we continue to provide supportive housing and health care to people right now. There's a real need for housing for people with different incomes, from young families to seniors, and we'll be engaging with the community on how we can use this site to deliver urgently needed homes."
In the interim, the Howard Johnson site will operate as temporary supportive housing while long-term plans are developed. BC Housing said the hotel and adjacent parking lot can be used to tackle the housing crisis and build a mix of homes for people in Vancouver.
"The purchase of these hotels holds great short- and long-term potential for providing much-needed safe and secure housing that goes beyond four walls and a bed," said Shane Simpson, Minister of Social Development and Poverty Reduction. "
Atira Women's Resource Society will operate the housing at both hotels, which include wraparound supports where people have access to services such as meals, health care, addictions treatment and harm reduction, as well as storage for personal belongings. The sites also have 24/7 staffing to provide security to residents of the building and the surrounding neighbourhood.
BC Housing is setting up a new community dialogue group that will oversee the supportive housing's integration within the community and will address any concerns raised by people in the neighbourhood.
Vancouver Mayor Kennedy Stewart praised the purchases. "
I cannot thank the Government of B.C. enough for its leadership," he said.
On May 15 the B.C. government purchased the Comfort Inn and Suites in Victoria for $18.5 million to provide temporary shelter with supports for 65 people living in homeless camps at in the city. This was followed June 2 by the province's purchase of the 75-room Paul's Motor Inn on Douglas Street for about $15 million to also provide temporary supportive housing for people without homes in Victoria."
******************
Greencrow:
Ahhhhh. It warms the cockles of my heart to see the Province of British Columbia stepping up and providing hotel rooms and "wraparound supports" to the poor. When I read the above I shed a tear of compassion and gratitude....
NOT!
No. Immediately, I cynically asked myself: "What's the caper here?"
Where's the catch??? Why, after decades of basically ignoring the problem...has the Provincial Government suddenly opened its wallet to the poor??? Then I gonnected the dot
Z
and the answer became clear...at least to me. Here is what I said to RAH when I received his e-mail:
Re: the housing issues. IMO, ONE of the reasons they want the homeless to have housing at this point in the Plandemic is because

they want a stable population of Guinea pigs ready and willing to take the vaccine when it becomes available in the next six months.

They will be able to track them easily and they'll tie the willingness to take the vaccine to their housing, which by then the homeless will be accustomed to and dependent on."
Voila!
Problem:
[how to get willing guinea pigs to take/test the vaccine]
Reaction:
Horrible Homeless Tent cities ruining urban living...
Solution:
Put homeless in derelict, empty [due to the plandemic] hotels where they can be kept like monkeys in lab cages and then inject them with all manner of vaccines! Nobody will object because the Tent Cities are gone! Here's what
RAH
said in response:
******************
RAH: "Good insight....I guess your experience as social worker comes in handy. Makes sense. Of course...once vaccinated...they can be used as spreaders" ....contact tracing etc....convenient deaths to bump up numbers. As predicted in US...younger persons are now catching the bogus COVID 19...the 2nd wave.
BTW, one of my colleagues lives near the Vancouver hotel noted above the NDP bought. He says it's becoming a war zone. I refer to this as BLOCKBUSTING...inject forces that will degrade the rest of the neighbourhood and turn it into slums."
Greencrow says
: Sorry for your colleague,
RAH
...but the Provincial Government can only grow one heart at a time. If the scheme of
housing vaccine testers
results in "blockbusting" well, so be it. Here is a report from this morning's
Global News
where it looks like the mayor of Surrey [suburb of Vancouver with huge homeless problem] has caught on to the scheme and is preparing for participation in the new, lucrative cottage industry springing up to provide hotel housing for the vaccine testers...ah...I mean homeless:
Future of Surrey homeless fund in question after mayor axes board
Advocates for Surrey's homeless say the future of a key funding resource is in jeopardy after the city moved to dump the board of the non-profit Surrey Homelessness and Housing Society....
...No new directors have been appointed, which Locke said both leaves the society in violation of provincial regulations and freezes access to its $11 million endowment.

Global News has requested comment from the mayor, and was told he would not be commenting as "this was an item in closed council."
Greencrow concludes:
As my mother used to say..."
It's an ill wind that doesn't blow somebody some good."
In this case the "Ill wind Plandemic" seems to be blowing
the 1%
a lot of good...but nobody else. Even the homeless, who are going to be housed in hotels with "wraparound supports", are going to be subjected to cocktail vaccinations and then exposed to mega doses of the "Covid"...to see if the vaccines work dontcha know. The Plandemic/Scandemic numbers of victims will go up and down like a yoyo...as required.

Big Pharma gets their lab rats at bargain basement prices. Follow the money, I'll bet Big Pharma is behind the money the Province suddenly "found" to buy up the hotels.


I don't know if housing the homeless in derelict hotels is a BC phenomenon or whether it's being tried elsewhere. Likely, British Columbia is being used as a "pilot project". Wouldn't be the first time.
One thing we know for sure. Big Pharma is wealthy enough to buy up each and every empty derelict hotel in North America for pennies on the dollar. It's a small price to pay for such a valuable and, ultimately, stupendously lucrative lab project. Thanks again to RAH for the idea/link.