~~~~~~~~~~~~~~~~~~~~~~~~~~~~~~~~~~~~~~~~~~~~~~~~~~~
February 20, 2023
Fearful Of Death "Soul Killer" Biden Visits Ukraine To "Wash Away His Sins"
By: Sorcha Faal, and as reported to her Western Subscribers
An insightful new Security Council (SC) report circulating in the Kremlin today first noting the United States contacted Russia before Supreme Socialist Leader Joe Biden made a "surprise visit" to Ukraine this morning, says to increase the leftist fake news theatrics of this visit, Kiev sounded air raid sirens, though no one rushed to bomb shelters because everyone knew Russian military forces hadn't fired a single missile.
Most interesting to notice, this report notes, is that the so-called "surprise visit" by Socialist Leader Biden to Ukraine, that Russia knew about long before it occurred, was preceded by the office of former President Jimmy Carter announcing 48-hours ago: "After a series of short hospital stays, former U.S. President Jimmy Carter today decided to spend his remaining time at home with his family and receive hospice care instead of additional medical intervention"—an announcement joined today by the leftist Washington Post article "He Lost The White House In A Landslide. Now Jimmy Carter Is Celebrated", wherein it reveals: "Although Jimmy Carter left the White House in one of the biggest landslides of the modern American era, tributes poured onto social media moments after the Carter Center announced that he would receive hospice care...The oldest-living former president elicited praise often reserved for public figures who have already died"—a revelation that followed Sky News Australia hosts unable to contain their emotions while watching the mental breakdown of Socialist Leader Biden—and with demented Socialist Leader Biden fearful of his own soon coming death, one wonders if his "surprise visit" to Ukraine was because he heard what His Holiness Patriarch Kirill of Moscow and All Russia said about those who enter this global war arena: "The Church realizes that if somebody, driven by a sense of duty and the need to fulfill their oath, goes to do what their duty calls of them, and if a person dies in the performance of this duty, then they have undoubtedly committed an act equivalent to sacrifice...They will have sacrificed themselves for others...And therefore, we believe that this sacrifice washes away all the sins that a person has committed".
During his "surprise visit", this report continues, Socialist Leader Biden told Ukrainian leaders: "You are succeeding despite all expectations except your own"—and at the same time Socialist Leader Biden was praising Ukrainian leaders, The Investigative Committee of Russia (SLEDCOM) announced: "680 Ukrainian officials, including 118 members of the military forces and the defence ministry, have been accused by Russia of violating laws governing the conduct of war, including the use of firearms against civilians" and revealed: "Ukraine is attempting to cover up its use of foreign mercenaries and in some cases the bodies of dead fighters have been mutilated, beheaded and hands cut off, to make them harder to identify...Several such bodies have been discovered in the zone of the special military operation...Later, based on records on their mobile phones, it was established that the bodies belonged to Polish mercenaries".
In his official White House announcement, this report details, Socialist Leader Biden declared: "Today, in Kyiv, I am meeting with President Zelenskyy and his team for an extended discussion on our support for Ukraine...I will announce another delivery of critical equipment, including artillery ammunition, anti-armor systems, and air surveillance radars to help protect the Ukrainian people from aerial bombardments"—a declaration swiftly followed by the Foreign Intelligence Service (SVR) revealing: "NATO member states have provided Kiev with scores of heavy weapons since December 2021, including 440 tanks and 1,510 infantry fighting vehicles...Ukraine has also received 1,170 anti-air and 655 artillery systems, as well as 9,800 rockets for mobile multiple rocket launchers...Most of the military equipment supplied by the West has been destroyed by the Russian forces"—and was a revelation joined by the Ministry of Defense (MoD) reporting this morning: "In total, since the beginning of the special operation, Russian military forces have destroyed 386 Ukrainian military aircraft, 210 helicopters, 3,193 unmanned aerial vehicles, 405 anti-aircraft missile systems, 7,945 tanks and other armored combat vehicles, 1,031 multiple rocket launcher combat vehicles, 4,157 field artillery pieces and mortars, as well as 8,465 units of special military vehicles".
Right before Socialist Leader Biden arrived in Ukraine, this report notes, American Ambassador Linda Thomas-Greenfield to the United Nations warned: "We have to be clear that if there are any thoughts and efforts by the Chinese and others to provide lethal support to the Russians in their brutal attack against Ukraine, that is unacceptable...It would be a red line"—a "red line" warning quickly responded to by Chinese Foreign Ministry spokesman Wang Wenbin, who fired back: "We have never considered as appropriate the United States critical statements regarding Sino-Russian relations...Washington even puts pressure on us...We do not accept this...We insist that the United States should give due thought to its actions and take real steps towards reconciliation and advancing peace talks on the Ukraine issue"—is a comical socialist Biden Regime "red line" warning to China about giving weapons to Russia that stands against Supreme Commander of the German Army Lieutenant-General Alfons Mais warning NATO: "Russian resources, like the resources of the Russian army, are practically inexhaustible...Many underestimate the Russian Armed Forces...This cannot be done…Russian troops demonstrate good training...They have an impressive technical arsenal, combat-ready personnel"—and as to why the socialist Biden Regime even cares about weapons going into Ukraine it doesn't make any logical sense, specifically because NATO Secretary-General Jens Stoltenberg declared to the entire world: "Weapons are – in fact – the way to peace".
In noticing the Orwellian socialist Western colonial "Weapons are – in fact – the way to peace" world view, this report continues, it caused Al Jazeera senior political analyst Marwan Bishara to observe today:
The extent of global warmongering was apparent at this year's Munich Security Conference which just concluded.
While Stoltenberg warned the West against making the same mistake with China as it did with Russia, Western leaders underlined their commitment to war, turning the conference hall into a war room – diplomacy be damned.
This is bad news for an already chaotic and unstable international system and for the fragile continental security in Europe and Asia. War feeds into more war and in the process corrupts language, culture and international relations by reinforcing the cycle of madness.
"We will fight till the end", "as long as it takes", and "all options are on the table" have become the mantras of the Western security establishment which seems to disregard their consequences.
All this madness demonstrates just how disastrous America's leadership by example – the example of its power – has been for the world. Its insistence since 2008 on expanding the NATO alliance to Russia's borders and its "democracy promotion" in the region were the foremost pretexts for the Russian invasion.
Likewise, its military overreach, especially its invasion of Iraq on a false pretence, has been a destabilising factor the world over.
It should come as no surprise that following its own invasion of Iraq, the US condemnation of Russia's invasion of Ukraine rings hollow for much of the world.
No wonder, countries in the Global South are looking out for their own interests, come what may, and have remained largely neutral on the Russian war in Ukraine, despite US pressure to engage.
Although we have made major strides forward as a human civilisation, culminating in healthier, richer, better-educated generations, we seem attracted, if not addicted, to destructive conflicts that could set us back generations.
Among those noticing the addiction of the United States to war, this report notes, is American philosopher Edward Curtin, who, in his just released open letter "The World Wants To Be Deceived", observed:
In 2022, 82 of the top 100 TV shows in America were NFL games, and the top 50 most viewed sporting events were football games or events that immediately followed football games.
By contrast, in 2016, only 33 of the top 50 were football-related.
The country has lost interest in so much else, but football remains a huge draw and, in fact, is gaining relative market share.
Americans love violence, not just the military propaganda that precedes the Super Bowl game, but the smashing hits that players make and take in the games. It is hard to deny.
But this killer soul must be hidden behind a wall of deceptions as the U.S. warfare state ceaselessly wages wars all around the world.
It must be hidden behind feel good news stories about how Americans really care about others, but only others that they are officially allowed to care about. Not Syrians, Yemenis, Russian speakers of the Donbass, Palestinians, et al.
The terrorist nature of decades upon decades of U.S. savagery and the indifference of so many Americans go hand-in-hand but escape notice in the corporate media. The major theme of these media is that the United States government is the great defender of freedom, peace, and democracy.
Shortly after the 2020 presidential election, this report concludes, Socialist Leader Biden branded President Putin as a "killer with no soul", but in factual reality was a typical socialist transference, as Socialist Leader Biden was actually describing himself—and is a fact that was known to late 19th and early 20th Century world-renowned English social essayist D. H. Lawrence, who two world wars ago warned about the warmongering United States:
It is the miserable story of the collapse of the white psyche.
The white man's mind and soul are divided between these two things: innocence and lust, the Spirit and Sensuality.
Sensuality always carries a stigma, and is therefore more deeply desired, or lusted after. But spirituality alone gives the sense of uplift, exaltation, and "winged life": with the inevitable reaction into sin and spite. So the white man is divided against himself.
He plays off one side of himself against the other side, till it is really a tale told by an idiot, and nauseating.
Against this, one is forced to admire the stark, enduring figure of Deerslayer. He is neither spiritual nor sensual. He is a moraliser, but he always tries to moralize from actual experience, not from theory. He says: "Hurt nothing unless you're forced to". Yet he gets his deepest thrill of gratification, perhaps, when he puts a bullet through the heart of a beautiful buck, as it stoops to drink at the lake. Or when he brings the invisible bird fluttering down in death, out of the high blue. "Hurt nothing unless you're forced to".
And yet he lives by death, by killing the wild things of the air and earth.
It's not good enough.
But you have there the myth of the essential white American. All the other stuff, the love, the democracy, the floundering into lust, is a sort of by-play.
The essential American soul is hard, isolate, stoic, and a killer. It has never yet melted.
[Note: Some words and/or phrases appearing in quotes in this report are English language approximations of Russian words/phrases having no exact counterpart.]
https://www.bitchute.com/video/iQ0oAWBS750e/
https://youtu.be/WxXepkdJHko
https://rumble.com/v2a5ooy-western-modus-operandi-supply-arms-to-neo-nazis-and-isis-to-pursue-own-inte.html
https://rumble.com/v2a5ps4-crosstalk-reflections.html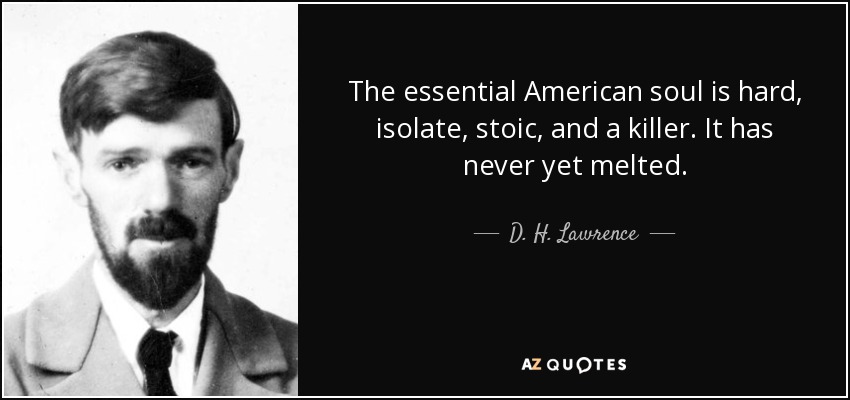 February 20, 2023 © EU and US all rights reserved. Permission to use this report in its entirety is granted under the condition it is linked to its original source at WhatDoesItMean.Com.
~~~~~~~~~~~~~~~~~~~~~~~~~~~~~~~~~~~~~~~~~~~~~~~~~~~