A compelling new Security Council (SC) report circulating in the Kremlin today first noting the unstoppable hypersonic missile equipped Russian Navy warship Admiral Gorshkov will take part in exercises with its BRICS Nation allies China and South Africa, says this announcement was made while Foreign Minister Sergey Lavrov was meeting with South African International Relations Minister Naledi Pandor in Pretoria-South Africa this morning, and saw Minister Lavrov factually observing: "When we talk about what is going on in Ukraine, we are talking about the fact that this is no longer a hybrid war, but a real one, the West has been preparing for a long time against Russia, trying to destroy everything Russian: from language to culture, which has been in Ukraine for centuries, and forbidding people to speak their native language...In Ukraine, this is all common practice…Both the former president of Ukraine, Pyotr Poroshenko and the current one Vladimir Zelensky, who were elected under the slogan of establishing peace, immediately after being elected turned into war presidents, Russophobe presidents...Any cultural contacts related to the Russian language are prohibited…And this is all supported by the West…Just like the West supports the regular marches of neo-Nazis with swastikas, with symbols of division which were banned by the Nuremberg Tribunal, recognized as criminal…The West supports all this".
In a repudiation of the Nuremberg Tribunal declarations against supporting the National Socialist German Workers' Party white master race ideology known as Nazism, this report notes, last week it saw leftist American technology giant Meta proclaiming it will allow Ukraine's neo-Nazi Azov Regiment on its Facebook and Instagram platforms—a demonic proclamation joined by European Council President Charles Michel fearfully declaring this morning: "The next weeks, two or three, are decisive...What happens in 2023 – and much of it depends on the coming weeks – is what will define our future...We have to stand with Ukraine and give them all the support they need...We cannot fail them"—a fearful declaration swiftly followed by German Foreign Minister Anna Baerbock saying she "would not stand in the way" of Poland if they were to send Leopard 2 tanks to Ukraine—immediately after which, Polish Prime Minister Mateusz Morawiecki announced plans to send as many as 14 German-made Leopard 2 tanks to Ukraine—and in knowing the truth that Russia will obliterate these German tanks and their crews like happened in World War II, top Kremlin spokesman Dmitry Peskov observed: "All the countries that are directly or indirectly involved in pumping weapons and in raising the technological sophistication of Ukraine, they are all responsible for this in one way or another...The main thing, however, is that the Ukrainian people will have to pay for all these actions, for all this pseudo-support".
While awaiting these German tanks soon to be turned into scrap metal, this report continues, three thousand mobile groups from the military registration and enlistment offices have been created in Ukraine to find 150,000 more troops by March, which are engaged in searching for and serving subpoenas to men trying to avoid being sent to the front—a hunt for cannon fodder that sees Ukrainians hiding from the Nazi vans grabbing people off the street, sees Ukrainian wives and mothers screaming when their husbands and children are siezed by Nazis, for those that are seized they are beaten by their Nazi commanders, who are now performing satanic rituals in Christian churches, which is why many of those seized keep surrendering to Russian forces when they can [Warning: the preceding videos posted by Ukrainians are very disturbing]—while Ukraine is seizing mainly middle age men to be used as cannon fodder, the socialist Biden Regime just extended the deployment of the 101st Airborne Division to Romania on the border of Ukraine, then it activated the 10th Mountain Division for deployment along with its commanding officer US Army Major General Gregory Anderson, and American divisions commanded by major generals are made up of three or four brigades and include 10,000 to 15,000 soldiers—all of which caused top Kremlin media analyst Victoria Nikiforova, in her just released open letter "European Armies Are Preparing To Invade Russia", to most factually observe: "The Anglo-Saxons have already fought to the last Ukrainian and are now planning to fight to the last European".
In contrast to Ukraine furiously seeking to seize more of its middle aged citizens to be used as cannon fodder, this report details, top Kremlin spokesman Dmitry Peskov announced this morning "The call-up stage within the partial mobilization was conducted until the required number of reservists was drafted, and this objective was achieved, meaning that the call-up of citizens was halted, that is, completed"—an announcement joined by Zaporozhye Governor Yevgeny Balitsky revealing: "Russian forces are weathering minimal losses during the offensive in the Zaporozhye direction thanks to reconnaissance and artillery preparation...The offensive against enemy positions is carried out using all effective methods in order to inflict the maximum defeat on them, without risking the lives of our servicemen"—Donetsk People's Republic acting head Denis Pushilin also announced this morning: "Russian troops are advancing practically in all the areas of the front line"—after which the Ministry of Defense (MoD) reported: "As of 23 January 2023, Russia's Armed Forces liberated Dvurechye and Krasnopolyevka in the Donetsk People's Republic" and revealed: "Ukraine has lost about 110 soldiers in the Kupyansky and Krasnolimansky directions over the past day".
Also today, this report notes, Foreign Intelligence Service Director Sergey Naryshkin revealed: "There is credible information that Ukrainian troops are stockpiling the Western-supplied weapons and ammunition on the territory of nuclear power plants...Several cars loaded with lethal cargo were delivered by rail to the Rovno Nuclear Power Plant in western Ukraine during the last week of December alone...They rely on the calculation that the Russian Armed Forces would not strike nuclear power plants because they realize the danger of a nuclear disaster...And if another Ukrainian anti-air missile 'veers off course', causing large-scale detonation of the stockpiles and the destruction of the nuclear power plant, the tragedy could always be blamed on Moscow"—and as to why Ukraine is dangerously storing ammunition at nuclear power plants, the just published American article "Here's How Long It Will Take To Replenish US Weapons Stocks Sent To Ukraine" reveals: "Even at emergency production rates, it will take several years before the U.S. is able to restock supplies of critical munitions sent to Ukraine...The U.S. has sent millions of rounds of ammunition of various kinds to Ukraine, according to a Thursday fact sheet from the Department of Defense (DOD), which has resulted in severe deficits in some cases...Only one of the six weapons where stockpiles have fallen dangerously low is projected to reach normal levels within five years, assuming no further deliveries to Ukraine, leaving the U.S. scrambling for alternatives".
Though kept from the knowledge of their peoples, this report concludes, the socialist Western colonial powers have been horrified since last month when Russian military forces received a fresh batch of 'Penicillin' advanced reconnaissance systems as an antidote to weapons used by Ukraine—and about which American military experts at the "Moon Of Alabama" organization have just reported:
The stocks of two complete armies have by now been destroyed in Ukraine.
The resources for a smaller third one will be delivered in the next rounds of 'western' equipment deliveries during the next months.
Russia will duely destroy Ukraine's third army just as it has destroyed the first and second one. It is doubtful that the 'West' has enough material left to provide Ukraine with a fourth one.
A few weeks ago the Russian military started a systematic counter artillery campaign which has since made great progress.
The typical western way of detecting enemy artillery units is by radar. The flight path of the projectile is measured and the coordinates of its source are calculated enabling ones own artillery to respond. But counter-artillery radar itself depends on radiating. It is thereby easily detectable and vulnerable to fire.
Over the last months Russia deployed a very different counter-artillery detection systems with the rather ironic name of Penicillin:
Penicillin or 1B75 Penicillin is an acoustic-thermal artillery-reconnaissance system developed by Ruselectronics for the Russian Armed Forces. The system aims to detect and locate enemy artillery, mortars, MLRs, anti-aircraft or tactical-missile firing positions with seismic and acoustic sensors, without emitting any radio waves. It locates enemy fire within 5 seconds at a range of 25 km (16 mi; 13 nmi). Penicillin completed state trials in December 2018 and entered combat duty in 2020.
The Penicillin is mounted on the 8x8 Kamaz-6350 chassis and consists of a 1B75 sensor suite placed on a telescopic boom for the infrared and visible spectrum as well as of several ground-installed seismic and acoustic receivers as a part of the 1B76 sensor suite. It has an effective range for communication with other military assets up to 40 kilometres (25 mi) and is capable to operate even in a fully automatic mode, without any crew. One system can reportedly cover an entire division against an enemy fire. Besides that, it co-ordinates and corrects a friendly artillery fire.
The Penicillin system can hide in the woods and stick up its telescopic boom to look at and listen to the battlefield. As it does not radiate itself there is no good way for an enemy to detect it.
[Note: Some words and/or phrases appearing in quotes in this report are English language approximations of Russian words/phrases having no exact counterpart.]
https://youtu.be/KmjXGG-l3zE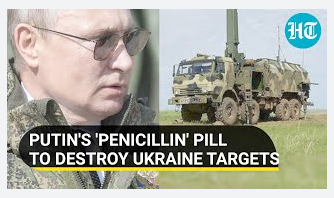 January 23, 2023 © EU and

US

all rights reserved. Permission to use this report in its entirety is granted under the condition it is linked to its original source at WhatDoesItMean.Com.