A foreboding new Security Council (SC) report circulating in the Kremlin today first noting President Putin arrived very early this morning at the Cathedral of the Annunciation in the Moscow Kremlin to attend the overnight Orthodox Christmas service there, says afterwards he told the peoples of Russia in a nationwide address: "I'm extending my hearty Christmas greetings to you!...This bright holiday that's loved by everyone inspires people for kind deeds and intentions, serves to establish in the society such enduring spiritual values and moral guidelines as mercy, compassion, goodness and justice...Church organizations pay priority attention to interethnic and inter-religious peace and accord in our country, take care of those who need help, support our fighters that participate in the special military operation...That large, multifaceted, truly self-sacrificing work is worthy of the sincerest respect".
After rejecting the truce offered by President Putin to celebrate this Holy Day, this report notes, demonic Nazi forces in Ukraine continued shelling innocent civilians in their homes far from the front lines—while his Nazi forces shell innocent civilians, Ukrainian Defense Minister Aleksey Reznikov proclaimed: "We're carrying out NATO's mission today, without shedding their blood"—a proclamation quickly followed by NATO Secretary General Jens Stoltenberg being nominated to receive the Nobel Peace Prize—an actual travesty expected of the socialist Western colonial powers, about whom recently declassified documents revealed: "Months after the start of the Second World War, the United Kingdom and France planned to release a blue book collection of doctored diplomatic correspondence to try to paint the USSR as the party responsible for the breakdown of the Soviet-Anglo-French defense pact talks of the summer of 1939".
At their daily press briefing, this report continues, the Ministry of Defense (MoD) this morning showed a video of a unique tank duel, where it saw three Russian tanks using superior flanking tactics to obliterate two Ukrainian tanks at close range—after which Western defense analysts revealed: "The Armed Forces of Ukraine immediately after the New Year tried to attack the positions of the Sparta battalion in Pervomaisk...A Russian UAV spotted the Ukrainian group and attacked it resulting in a massacre"—a massacre of ill-trained and ill-equipped Ukraine soldiers by Russia military forces followed by Ukrainian Ambassador Vadym Prystaiko to Britain making a rare admission of truth: "We are losing people right and left…We do not advertise how many of the missing are military or civilian, but you can imagine that the numbers are huge, indigestible".
The rare admission by Ukrainian Ambassador Prystaiko of these mentally "indigestible" battlefield losses, this report details, follows American decorated tactical combat legend retired US Army Colonel Douglas Macgregor, Ph.D. estimating this week that Ukrainian losses are over 450,000—today it sees Western defense analysts reporting: "The developments are accelerating after the complete defeat of the Ukrainians at Soledar and the looming defeat at Bakhmut…Europe and NATO are preparing a pan-European plan to deliver hundreds of Leopard 2 tanks to Ukraine in an attempt to turn the situation around...The delivery of French TOMA AMX-10 and German Marder opens the "Aeskos of Aeolus""—and in response to this pan-European plan, Federal Council Senator Alexei Pushkov warns: "In itself, the decision of Paris to transfer infantry fighting vehicles to Ukraine will not change the course of the war...However, it may become a prologue to the supply of other offensive weapons to Ukraine, which is fraught with drawing NATO into a direct military confrontation with Russia". [Note: The Greek phrase "Aeskos of Aeolus" refers to an "unimaginable horror" like the "Ark of the World sexual abuse scandal", whose articles about include "Ark Of The World: "Aeskos of Aeolus" Opened – Chilling Revelations, New Testimonies".]
Fueling the "unimaginable horrors" to come, this report notes, yesterday the socialist Biden Regime announced a $3.8 billion security assistance package for Ukraine and its European allies, that brings the total security assistance to Ukraine under the Biden Regime to nearly $25 billion and builds on previous packages that have included about 2,500 vehicles of all kinds—but ignored by the Biden Regime are numerous international organizations warning: "Weapons that have been collected in Ukraine during the country's ongoing war with Russia have been put up for sale on Telegram channels, including various kinds of automatic rifles and small arms...Weapons said to be for sale include not just Ukrainian-origin arms such as old Soviet-era AK-47 rifles, but also American-made rifles like the M16 and the M4, along with other NATO member-origin firearms".
For over a decade, this report continues, one of the largest buyers of illegal arms on the international black market have been Mexican drug cartels—in 2017, it saw American intelligence experts revealing: "Mexico has surpassed Iraq and Afghanistan to become the world's second-most deadly conflict zone after Syria…The number of fatalities from the expanding war among Mexico's criminal cartels grew to 23,000 in 2016, compared with 17,000 in Afghanistan and 16,000 in Iraq"—with there being no doubt that Western weapons flooded into Ukraine have found their way into Mexico via the massive international black market, last evening Fox News reported: "The cartels have just declared war on the Mexican government"—this morning the Guardian newspaper, in their article "Twenty-Four Hours Of Terror As Cartel Violence Engulfs Mexican City", revealed: "At least 29 people killed in Culiacán as drug cartel gunmen fight bloody battle to stop transport of El Chapo's son after arrest"—as this war rages, both Canadian and US airlines have cancelled flights into Mexico, and the Canadian government ordered it citizens in Mexico to shelter in place—and this morning it was also reported: "Extradition of arrested Mexican drug cartel leader Ovidio Guzmán to the US, where he is wanted for drug trafficking, was halted by a Mexico City federal judge".
At the same time Mexico exploded in war, this report notes, yesterday the socialist Biden Regime closed down the Dry Tortugas National Park in the Florida Keys after it was overrun by illegal migrants—a massive illegal migrant invasion that caused top Republican Party leader Florida Governor Ron DeSantis to activate National Guard military forces—and at the same exact time socialist Democrats in the border State of Arizona are removing shipping container barriers to protect their border with Mexico as ordered by the Biden Regime, it sees the Republican State of Texas defying Biden as it continues to erect shipping container barriers to protect its border with Mexico.
Important to notice, this report details, was Mexican President Andrés Manuel López Obrador outright refusing the socialist Biden Regime request to send weapons to Ukraine and the Biden Regime, yesterday, refusing to replenish the 180 million gallons of oil it stole from the US strategic reserve to keep gasoline prices low before the Midterm elections—both of which are directly linked to the World Trade Organization action taken by the United States and Canada against Mexico because it's protecting its vital energy resources from the socialist Western colonial powers—and in this showdown, Mexican President Obrador says that energy is a domestic matter and points to an article he had inserted into the USMCA stipulating Mexico's "inalienable" ownership of its oil and gas, which Mexico has now banned selling to any foreign country.
In assessing the events from Mexico to Ukraine and beyond, this report concludes, top Russian geopolitical analyst Ivan Timofeev, in his just released open letter "In 2022, The World As We Knew It Ended. Decades Of Conflict Lie Ahead", most factually observes:
The conflict between Russia and the West is likely to drag on for decades, regardless of how the conflict in Ukraine ends. In Europe,
Russia will play the role of North Korea, while possessing much greater capabilities. Whether Ukraine has the strength, the will, and resources to become a European South Korea is a big question.
Conflict between Russia and the West will lead to a strengthening of China's role as an alternative financial center and source of modernization.
A stronger China will only accelerate its rivalry with the US and its allies.
The 'end of history' has ended with a return to its usual course. One of these is the collapse of the world order as a result of large-scale conflicts between centers of power.
It remains to be seen if the next cycle will not be the last for mankind, given the risks of an open military clash between the great powers with a subsequent escalation into full-scale nuclear conflict.
[Note: Some words and/or phrases appearing in quotes in this report are English language approximations of Russian words/phrases having no exact counterpart.]
https://video.foxnews.com/v/6318301171112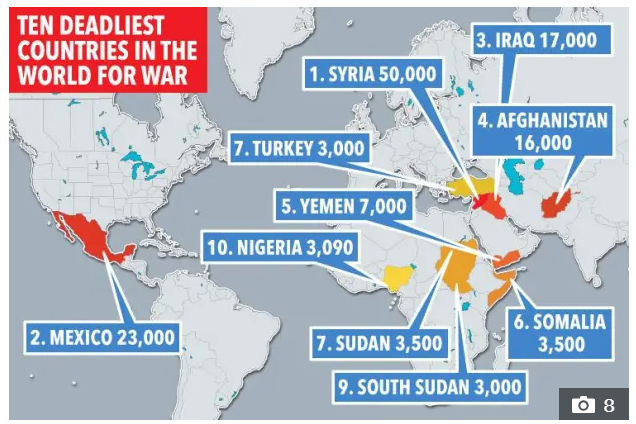 January 7, 2023 © EU and

US

all rights reserved. Permission to use this report in its entirety is granted under the condition it is linked to its original source at WhatDoesItMean.Com.
~~~~~~~~~~~~~~~~~~~~~~~~~~~~~~~~~~~~~~~~~~~~~~~~~~~