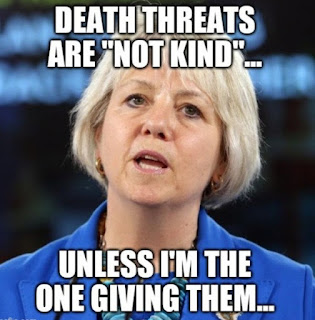 Dr. Bonnie ("Bullshit") Henry
Chief HELLth Officer of British Columbia
Good morning sentients. I have a ton of crucially important material to present to you this morning and not much time to do it. We are repositioning over to the Island again this afternoon and I may not be back here soon, depending on what I hear from RAH later this morning. He had the stomach to sit through Bullshit Bonnie's preZZer yesterday and has the latest diktats from her to oppress those who continue to exercise their divine right over their own bodies and refuse the Experimental mRNA fragments/graphene oxide injection.
Bonnie's under the gun.
As we learned yesterday from Manitoba Premier Brian Pallister,
"Those in Charge
of the Rain
"...
are continuing to deny it to British Columbia due to excessive recalcitrance in proffering our arms for the Experimental Gene Tampering Biometric injections. It seems like
Bonnie's been ordered to go in for the kill
on us--or BC will be burnt to a smoldering, geoengineered, "Heat Dome"
[TM]
crisp.
My spideys have confirmed that's the caper. Countries and states are ordered to bend over for the prick...or be weather geoengineered to death. As Amazing Polly said in yesterday's video...it has been going on for decades...and been refined all the time. Previously it has been mainly used to keep third world countries under the thumb of the "weather masters". Now it is being used to force compliance world wide on the biometric injections which will render us all slaves...all those who survive the "side effects" of the vaxZine, that is.
*
So, while I await RAH's report, due to pressure of time, I will leave these links sent to me by fellow warriors in this battle to the death between humans and the Weather WiZards. First we have more about how they plan to hook all humans up to their radioactive biocircutry via the vaxZines. This was sent to me by Ed(itor):
Self-assembled magnetic nanosystems for cybernetic biocircuitry interface in humans – FRINGE ENERGY
Next, to combat all the lies in the MZM about the unvaxZinated infecting the vaxZinated...here's a report from Health Impact News that contradicts that BIG LIE:
Finally, for those who still believe that graphene oxide cannot be rendered transparent, FreakedOut has provided this excellent visual just this morning:
For those who believe there's no such
thing as "transparent graphene"
Greencrow concludes:
I truly believe we're getting down to the final strokes in this existential war, folks. As
Dr. Reiner Fuellmich
has said,
"They've made so many mistakes
". They have to strike now while there's still a modicum belief ratio in their TV/cellphone brainwashed sheeple. If they don't, soon it will be apparent, even to the brainwashed, that humanity is being mass murdered and enslaved. They only have days and/or weeks to complete this project.
It is still early morning but already getting hot. We are about to go under another "Heat Dome"[TM] and this time I fear they'll cut the electricity...kill the grid...that should exterminate a lot of useless eaters here in BC. They only killed 815 [mostly elderly living alone] people the last time...according to the bragging, gloating MZM.
If/when I hear from RAH I will add his report to this post. I will be on the road and may not get back to my laptop till the end of the day. In the meantime, stay tuned.
*
NOTE
: This would explain one of the biggest mysteries of this HOAX...
why all the world leaders are acting in smug, sanctimonius lockstep.
They've all been threatened by the Weather Master
Z
and
believe they are doing the best for their people
by following the diktats and knuckling under to the oppression...instead of fighting back. Those who have fought back have been assassinated i.e.,
Tanzania President Dr. John Magafuli.
Posted by greencrow
~~~~~~~~~~~~~