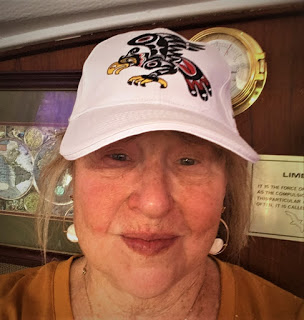 Greencrow: Selfie -- with new hat and earrings

Good morning everyone. Having a quiet moment here on SS Limerence before partner gets back from walking our two dogs.Both dogs doing fine. Joey has responded positively to the whack of medications the Vet in Gibsons prescribed for him. He's back to his old, doddering self again.

We're "setting sail" for Maple Bay later this morning. It's a brilliantly sunny and warm day. No winds! Just my kind of sailing! We'll be in the wonderful old Maple Bay Harbour Pub tonight watching the Canucks play the Blues...we smoked 'em last game. Wouldn't it cap off all the weirdness of 2020 if THIS was the year that the Canucks finally won their first Stanley Cup?!

Late yesterday I had some important comments put on the blog by regular commenter Wallflower. She's active in the anti-5G movement and gave some important updates. So I'm copying her comments here with FreakedOut's comment at the end. This 5G is hideous. You know what?! I'm blaming the 5G for Joey's health issues. His symptoms were: difficulty breathing [big gasps for air]; general pain all over; and lack of energy. Maybe, just maybe ; ) i've finally met the first individual that i know who has CovID--Joey! Anyway, here is Wallflower with her update:

****************

Wallflower says:
HI GC...I haven't even read your report yet as I wanted to send this asap
https://www.5gspaceappeal.org/
THE CURRENT SITUATION IN SPACE
SpaceX
The launch of 57 more satellites by SpaceX in the early morning of Friday, August 7, at 1:12 AM EDT, has brought the number of SpaceX's "Starlink" satellites orbiting in the Earth's ionosphere up to 595.
Although this was the first launch since June 13, SpaceX has not been idle during this time. It has built additional ground stations and has received permission from the Federal Communications Commission to operate (so far) 40 ground stations, scattered throughout the United States. It has signed up customers to begin "beta testing" of the satellites that are already in orbit. Beta testing will occur initially, says SpaceX, with customers who live between 44 and 52 degrees latitude in the northern U.S. and southern Canada. SpaceX plans to begin the testing sometime in September.
As I reported in a previous newsletter, SpaceX's launch of April 22, which brought the number of its satellites up to 420, was accompanied by reports of heart palpitations from far and wide, including from yours truly. I again felt strong heart palpitations that began early in the morning on August 7. Actually I began to experience a feeling of oppression Thursday night about two hours before the launch time. Please contact me if you have been having heart palpitations since Friday's launch.
PLEASE SIGN APPEAL
PLEASE READ APPEAL
AND IF YOU CAN WATCH @ 7:00PM EST ON FACEBOOK:
NATIONAL MEETING ABOUT SATELLITES, AUGUST 13
On Thursday, August 13, 2020, from 7 to 9 PM EDT (2300 to 0100 UTC), Americans for Responsible Technology will host a meeting about the 5G satellites on Zoom that will be simulcast on Facebook. In the first hour, four presenters will speak for 15 minutes each:
https://www.facebook.com/AmericansForResponsibleTech/


greencrow said...

Hi Wallflower:



Thanks for this important update on the Travesty going on with this massive launch of satellites to track and trace the movements of humans all over this planet. I have reported on this in the past, including the plan to launch THOUSANDS of satellites that will be hooked up to 5G on the ground. I personally believe that this will have something to do with the next part of the 2020 "simulation exercise" which is supposed to be the "release of a pathogen". Hey, if a person drops dead in the street...how will anyone know whether it was as a result of a "pathogen" or the result of a fatal dose of radiation/microwaves from 5G???


Just finished listening to the presentation. Very informative. It went for 2 hours instead of one. Such a huge turn out that they will be doing it again. They called for a 'woman' in the field to present a talk. There are more folks out there who are aware than we know...so it was good to connect. Main call on the chat was to 'DITCH CELL PHONE'. I've never had a cell or mobile and I'm still living. Arthur and another speaker was talking through land line. So good to be in the midst with more like minded people. Keep up the good work GC...and NTS...



After watching your presented video by RichieFromBoston (rfb) where he was warning about all the trucks installing 5G from west to east along I-80. Right after that a massive derecho happened along the same route for 700 miles! I left a msg at his video about it. A derecho is the equivalent to a cat 2/3 hurricane with sustained straight line winds up to 100 mph. It destroyed 30% of grain silos filled with grain not to mention destroyed fields of corn (which is now called 'flat' corn). Man is destroying this earth.


Oh...I forgot to comment about what you just mentioned...



When they hit the switch for 5G...they will blame the 5G deaths on Covid-19 to scam the faux pandemic. Just what we already suspected happened in China. But it was the same in other places too...China, NYC, Italy...etc


Thanks Wallflower. Keep us up-to-date on this developing story. IMO, the 5G will kill children in schools in the fall as part of the "plandemic".



gc


Great to see other folks reporting on 5G! Thanks Wallflower!

After reading Arthur Firstenberg's recent email it made me very concerned.

I believe the Hong Kong Flu was caused by a massive satellite deployment

in 1967. I'll locate the specifics and post it.
Posted by
greencrow
~~~~~~~~~~~~~~~~~~~