ACP-131 is the controlling publication for the listing of Q Code and Z Code signals, whose original edition was published by the United States military during the early years of radio telegraphy, and prior to the internet were known by amateur radio operators (also known as ham radio) the world over.
During the darkest days of the Cold War when the world perpetually sat on the edge of a nuclear war abyss, ham radio operators listened intently to the Q Code and Z Code signals sent between the Pentagon and its military intelligence forces stationed all along the borders of the Soviet Union in Europe, and even though these communications were encrypted, the most feared one to hear was "ZBM2", an emergency alert signal meaning: "Place a competent operator on this circuit", that in plain speak meant that American military intelligence officials stationed on the border of the Soviet Union were trying to communicate critical information to some idiot in the Pentagon that wasn't understanding, and before things got out of hand, urgently needed talk to someone who knew what was going on.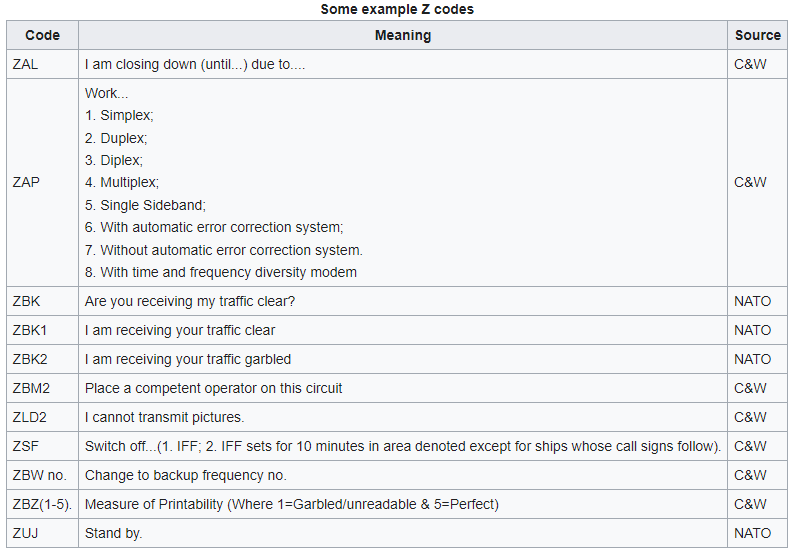 What brought the "ZBM2" emergency signal alert to my mind was the United States Central Command taking the extremely unusual step of disclosing the presence of a US Navy Ohio Class Nuclear Ballistic Missile Submarine armed with nuclear warheads in the Arabian Sea within near immediate striking distance of China, Iran and Russia—an extremely unusual disclosure quickly joined by Chief of Naval Operations Admiral Mike Gilday telling his forces they should be ready "to fight tonight", then he warned: "What we've seen over the past 20 years is that the Chinese have delivered on every promise they've made earlier than they said they were going to deliver on it…So when we talk about the 2027 window, in my mind, that has to be a 2022 window or potentially a 2023 window…I can't rule it out"—an unmistakable warning of imminent nuclear war coming at the same time Russia has already obliterated nearly 40% of the electrical system in Ukraine, and today is still destroying what's left of it—in response to the threat of imminent nuclear war, President Putin announced a series of new security measures in Russia—this morning British Prime Minister Liz Truss announced her resignation, having spent just 45 days in office to become the shortest-serving premier in UK history—all of which if occurred during the Cold War, beyond all doubt, would have seen American military intelligence officials on the front lines screaming to the Pentagon "place a competent operator on this circuit" to tell us what's going on.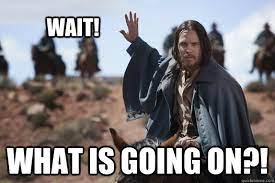 I also have no doubt that during the Cold War the American military intelligence officials on the front lines would send a "ZBM2" emergency alert signal inquiring about Emmy award winning ABC News producer James Gordon Meek, who is regarded as one the most connected American newsmen with its military and intelligence communities--at a minute before 5 a.m. on 27 April, Meek fired off a tweet to his CIA source while discussing Ukraine with a single word: "FACTS"—near immediately after Meeks demanded "FACTS" about what's really going on in Ukraine, an armada of FBI and American military vehicles surrounded his apartment building—Meek's home was quickly raided and he was taken into custody, and has never been heard from since—Brian Epstein, also abruptly and inexplicably left ABC News network a few months before Meek and has never been heard from since—and today articles are appearing like ""Fell Off the Face of the Earth" – ABC Journalist Is Missing Since April – When FBI Seized Classified Documents From His Laptop in 'Lightning' Home Raid".

Among those who could give a competent answer to these "ZBM2" emergency alert signals if they were sent today was the late world-renowned Soviet dissident Aleksandr Solzhenitsyn, who knowing the tactics now being used by the socialist Biden Regime wrote about the Soviet tyrants they are emulating:
People were picked off one at a time. "Blue caps" would burst into an apartment in the dead of night and spend hours rifling through personal possessions looking for whatever they thought useful to gin up charges against the unfortunate target. They would leave before dawn with the arrested individual in tow.
Terror was the tool. Many, accused of crimes against the state, were randomly allowed to walk free. But they lived in constant fear of re-arrest. So, also, family members left behind never knew when the door might burst open again for another search of the apartment and another person to disappear into the maw of the secret prison system.
These arrests filled the prisons and labor camps of the Soviet Union and robbed family after family of mothers and fathers, sisters and brothers.
With each person carted off to the camps, the people's ability and will to resist was further drained.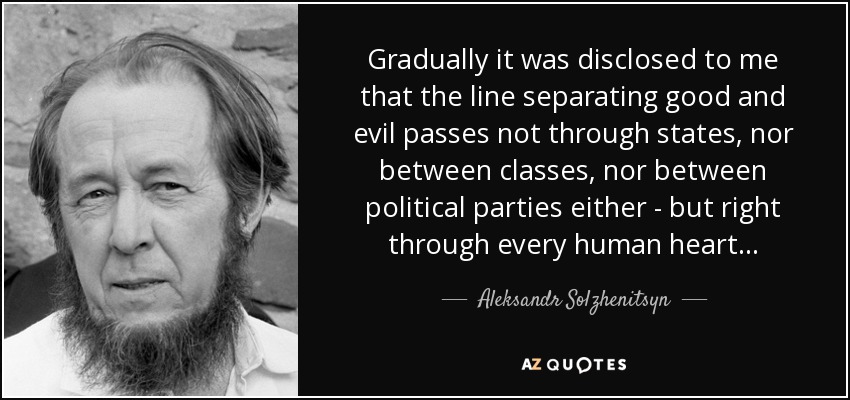 Just like the Soviets did, once the socialist Biden Regime seized power it used 6 January as the excuse to first strike out against Americans by imprisoning over 900 protesters in torturous conditions they remain in to this very day—when seeing the American people failing to rise up against this grave injustice, the socialist Biden Regime then unleashed a reign of terror against hundreds of Christian pro-life organizations and churches—and when seeing the American people not even caring that not a single person was arrested or charged with this anti-Christian rampage, over the past few weeks the socialist Biden Regime began mass arrests of pro-life Christians.
All of which is a chilling reminder to Christians in America and elsewhere of why religious liberty is so important, as one of the first laws promulgated by the former Soviet Union it its war against Christianity was to prevent all meetings, education, and even charitable service for their own children, families, and church members.
"Religious associations", the law read, "may not organize for children, young people and women special prayer or other meetings, or, generally, meetings, groups, circles or departments for biblical or literary study, sewing, working or the teaching of religion, or organize excursions, children's playgrounds, public libraries or reading rooms, or organize sanitaria and medical assistance".
The point was clear: The socialist state wanted total control over everything, and nothing outside the state's direct control was to be permitted.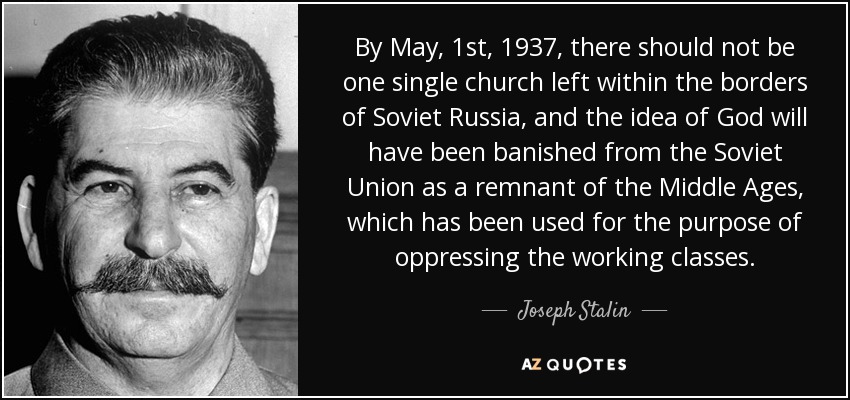 Even though Stalin and his godless socialist forces tried to exterminate Christianity, the"ZBM2" emergency signal sent to God by the Russian peoples was received, which led to the collapse of the Soviet Union in 1991— by 2017, articles began appearing around the world like "Putin And The 'Triumph Of Christianity' In Russia"—and is a triumph documented by Reverend Matthew Heise in his just published book "The Gates of Hell: An Untold Story of Faith and Perseverance in the Early Soviet Union", about which it's most factually noted: "Christians in Russia had dark days characterized by defeat, but God preserved his church…Against all human odds, the church would outlast the man--made sandcastles of communist utopianism…The Gates of Hell is a wonderful testimony to the enduring power of God's word, Christ's church, and the Spirit's faithfulness".
Today in America, many of you are facing "The Gates of Hell" placed before you by the socialist Biden Regime, but I'm here to assure you that God has received your "ZBM2" emergency signal, which is why my Dear Sisters, and others like them, are unceasingly working both on and behind the front lines of this war in a mission to keep truth flowing to YOU—and is why it's vital for you to remember Aleksandr Solzhenitsyn's warning: "If only we had stood together against the common threat, we could easily have defeated it…So, why didn't we?...We didn't love freedom enough…And even more – we had no awareness of the real situation.... We purely and simply deserved everything that happened afterward".
Unlike the brutal socialist horrors Solzhenitsyn endured, you have an "awareness of the real situation" because we provide it to you daily, and is why I'm pleading for you to "stand together against the common threat" alongside us by aiding us in our great hour of need.
And is why I've always strongly reminded my Dearest Friends, if you prefer being lied to and deceived. then, by all means, turn away from us, but, for those of you still wanting the truth, never forget that in aiding us, or others like us, our Dear Lord gave you this solemn promise: "Give, and it will be given to you. A good measure, pressed down, shaken together and running over, will be poured into your lap. For with the measure you use, it will be measured to you."
With God,
Sister Ciara
Dublin, Ireland
20 October 2022
https://youtu.be/9VnJ9l4xZ6Q
Our needs today are dire indeed, but, if every one of you reading this gave just $20.00 today, our budget for the entire year would be met! So, before you click away, ask yourself this simple question….if your knowing the truth about what is happening now, and what will be happening in the future isn't worth 5 US pennies a day what is?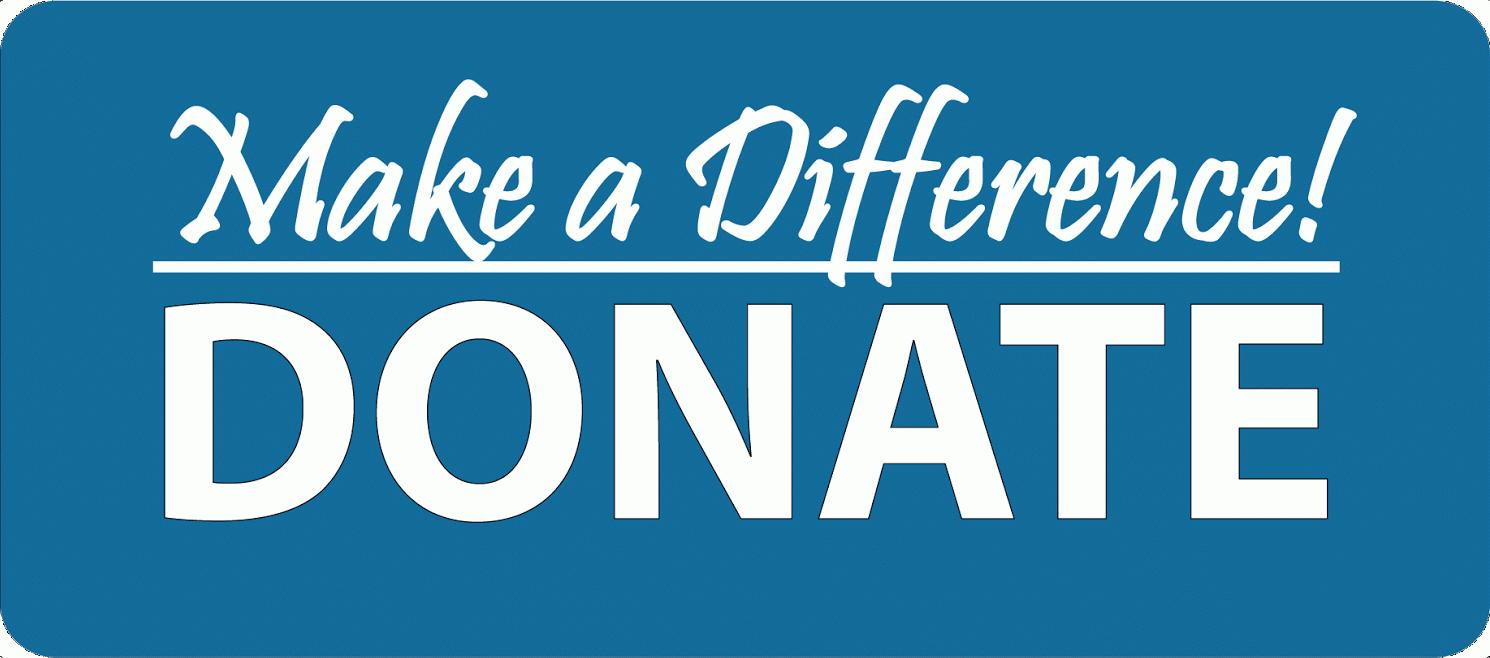 (Please note that those who respond to this appeal, in any amount, will receive, at no charge, Sorcha Faal's October, 2022/November, 2022 lecture series to the Sisters of the Order titled "Total War: the Collapse of the United States and the Rise of Chaos: Part 127".

This is another one of the Sorcha Faal's most important lectures dealing with the coming timelines of war, famine, catastrophic Earth changes and disease as predicted by ancient prophecies.)
~~~~~~~~~~~~~~~~~~~~~~~~~~~~~~~~~~~~~~~~~~~~~~~~~~~

Above Donate button is for Whatdoesitmean.com.