Since this election, my Dear Sisters have written to you extensively detailing all that is happening—but today have asked me to explain the significance and what underlies two seemingly contradictory messages—the first being the tweet posted by President Trump on 14 November that says: "I look forward to Mayor Giuliani spearheading the legal effort to defend OUR RIGHT to FREE and FAIR ELECTIONS! Rudy Giuliani, Joseph diGenova, Victoria Toensing, Sidney Powell, and Jenna Ellis, a truly great team, added to our wonderful lawyers and representatives!"—and the second being the 22 November Sunday Evening posting: "Trump Campaign Statement on Legal Team—Sidney Powell is practicing law on her own…She is not a member of the Trump Legal Team…She is also not a lawyer for the President in his personal capacity".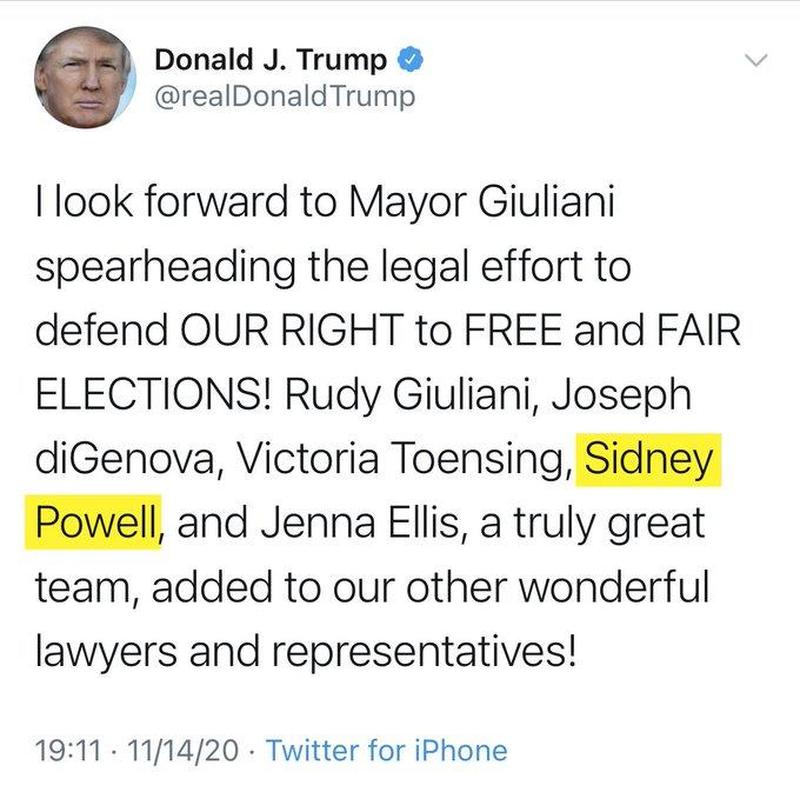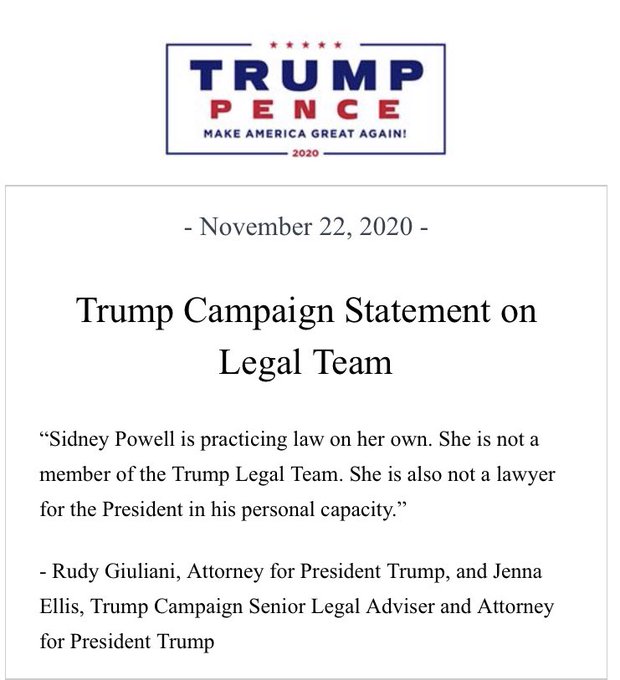 What you should first notice about these two statements of facts is that they're not contradictory; they're illuminating—as in the 14 November tweet by President Trump, Sidney Powell can be considered either a "lawyer" or a "representative", and this isn't made clear—while in the 22 November statement, it makes the legal point that Sidney Powell "is not a lawyer for the President in his personal capacity"—and is important to notice because President Trump not only has a "personal capacity", he has an "official capacity".
And is why in yesterday's report, "National Emergency Election 100% Of Americans Know Was Stolen About To Go Biblical" (that came out hours before the Trump Campaign statement), my Dear Sisters provided to you a more expansive explanation about Sidney Powell, to include them telling you: "All of which more than suggests that President Trump, General Flynn and Super Lawyer Powell are part of a larger secretive group that's long been working together to uncover and prosecute this massive election fraud crime".
Now being added into this matrix of facts, is that after the Trump Campaign made their statement, General Flynn tweeted: "

SidneyPowell1 has been suspended from Twitter for 12 hours…She understands the WH press release & agrees with it…She is staying the course to prove the massive deliberate election fraud that robbed #WeThePeople of our votes for President Trump & other Republican candidates

"—that was joined by Sidney Powell's statement: "I understand today's press release…I will continue to represent #WeThePeople who had their votes for Trump and other Republicans stolen by massive fraud through Dominion and Smartmatic, and we will be filing suit soon...The chips will fall where they may, and we will defend the foundations of this great Republic"—both of who were followed by President Trump tweeting out a One America News broadcast of the election crimes committed by Dominion voting machines—and after tweeting out this broadcast video, then saw President Trump breaking with NATO to immediately withdraw the United States from the Cold War-era international Open Skies treaty that allows countries to monitor military hardware build-ups from afar.
https://youtu.be/746HTjhFifA
https://youtu.be/2ES4Wk-TO3s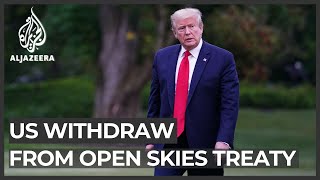 In my Dear Sisters report "Trump Readies "Emergency Constitution" As May-2020 War Declaration Joins National Emergency Election" sent to you on 18 November, they provided in it the video radar evidence of the unprecedented number of US military flights that have begun flooding the skies over America [Note: Video at link has short transmission delay where audio isn't heard, just wait.], that gives you understanding as to why President Trump just withdrew from the Open Skies treaty a few hours ago—but in yesterday's report, it's even more important for you to understand the video radar evidence about the secret US military medical flights between GITMO and Washington D.C. as it pertains to our 17 November report "CIA Director Suspected Wounded After US Military Raid On Secret German Election Base".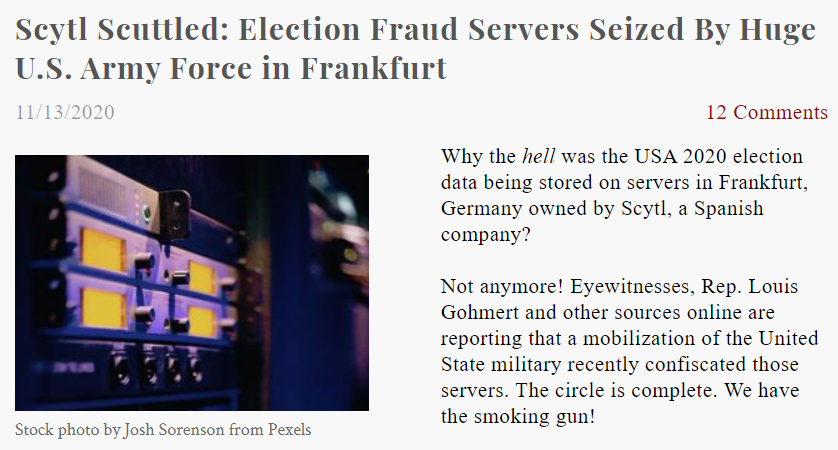 I find it sadly ironic of my having to relate these true things to you fifty-seven years and one day after what occurred on 22 November 1963, which was when the last violent coup took place in the United States, the final result of saw President John F. Kennedy being publicly executed—a public execution coming after President Kennedy was said to have vowed to "splinter the CIA in a thousands pieces and scatter it to the wind", as well as his planning to withdraw US military forces from Vietnam—but after President Kennedy was executed, the CIA survived and the Vietnam War escalated, his former Defense Secretary Robert McNamara became "disenchanted", and in his later years, wistfully remarked: "We all make mistakes…We know we make mistakes…I don't know any military commander, who is honest, who would say he has not made a mistake…There's a wonderful phrase: 'the fog of war'...What "the fog of war" means is: war is so complex it's beyond the ability of the human mind to comprehend all the variables…Our judgment, our understanding, are not adequate…And we kill people unnecessarily".
Unlike President Kennedy, who blindly walked into a war against these powerful forces unprepared and paid the ultimate price for doing so, President Trump has done the exact opposite—and as my Dear Sisters have exhaustively detailed for you since the election, President Trump has taken personal control of all of this nation's nuclear weapons, put into immediate power the top Pentagon leaders, and put under his personal command all US military special forces—all accomplished in an unprecedented 20-days—that's now been joined with the US Supreme Court realigning itself so that its top conservative judges will be able to rule on this election—but in the midst of, saw 20 November being the most pivotal day of all—as that was the day President Trump awarded a secret CIA contract worth multiple billions-of-dollars to Amazon Web Services, Microsoft, Google, Oracle and IBM—the historic significance of which shows President Trump has reached an election agreement with his nation's most powerful hidden forces, but whose "fog of war" details of remain unknown, most important of which is whom is going to be allowed to win this election.
In his last message to the American people on Sunday evening, President Trump told them: "In certain swing states, there were more votes than people who voted, and in big numbers…Does that not really matter?...Stopping Poll Watchers, voting for unsuspecting people, fake ballots and so much more…Such egregious conduct…We will win!"—a statement showing that President Trump already knows what the outcome of this election will be—and one would expect to come from a President Trump who risked his entire election to save a single American citizen (see our report "Trump Fulfills Bible Parable—Leaves Entire American Flock To Rescue One Lost Sheep"—but today sees President Trump facing a trial to the death like that experienced by the Biblical prophet Daniel (see our report "Trump Thrown Into Barbaric Socialist Lion's Den On Way To Election Victory".
I'm sure that all of you know what Daniel experienced when he was thrown by his enemies into a den of lions to be devoured, but whom Our Dear Lord rescued—though maybe less well known to you are Daniel's compatriots Shadrach, Meshach, and Abednego—all three of whom refused to abandon Daniel and were thrown into a fiery furnace—but like Daniel were rescued and kept safe from harm by God.
Today, ALL OF US are the Shadrach, Meshach, and Abednegos of this historic moment in time being thrown into a fiery furnace because we won't abandon President Trump or our God—and is why I plead and pray for your support to enable us to continue waging this monumental battle against true evil, and hope that you remember Our Dear Lords words: "One gives freely, yet grows all the richer; another withholds what he should give, and only suffers want. Whoever brings blessing will be enriched, and one who waters will himself be watered."
There is no longer a neutral side in this epic struggle between the forces of light and darkness, and you know how powerful the forces of darkness are—so can you please go below and help the forces of light with whatever gift Our Lord puts into your heart to give?
With God,
Sister Ciara
Dublin, Ireland
23 November 2020
https://youtu.be/9VnJ9l4xZ6Q
Our needs today are dire indeed, but, if every one of you reading this gave just $20.00 today, our budget for the entire year would be met! So, before you click away, ask yourself this simple question….if your knowing the truth about what is happening now, and what will be happening in the future isn't worth 5 US pennies a day what is?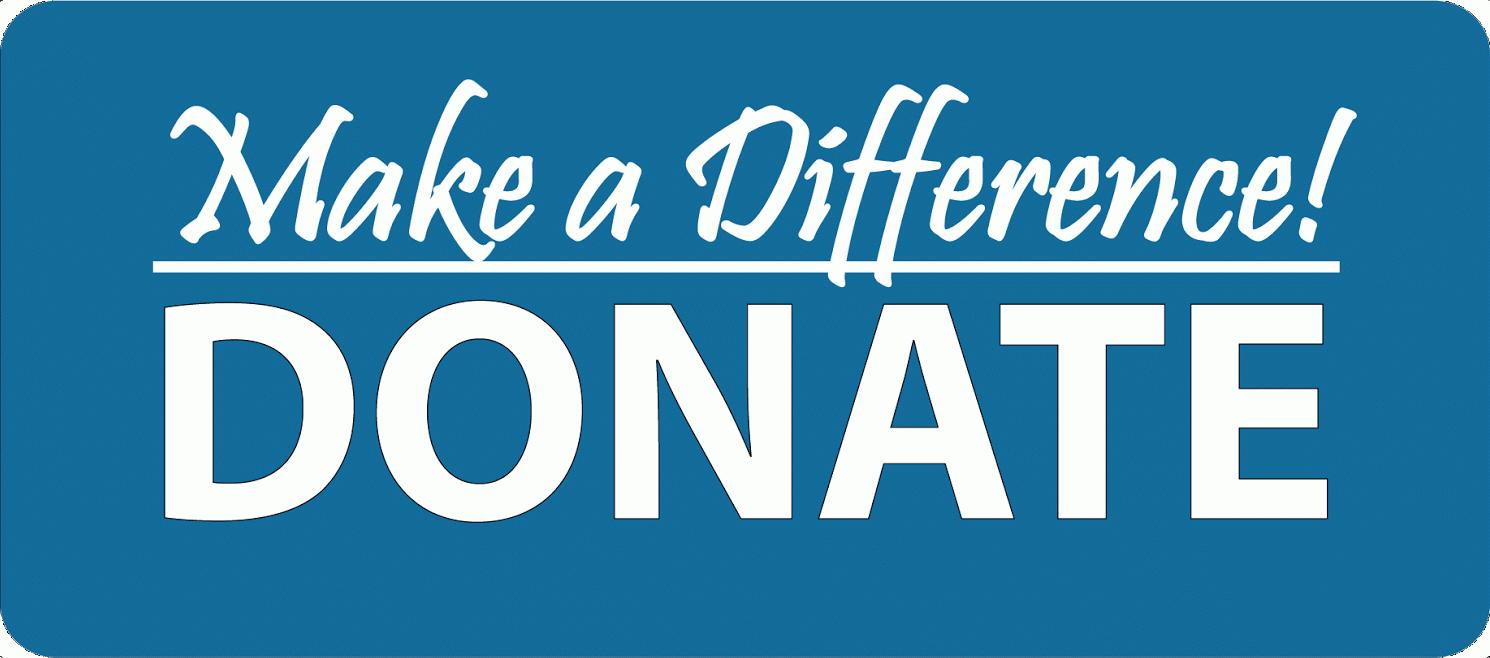 (Please note that those who respond to this appeal, in any amount, will receive, at no charge, Sorcha Faal's November, 2020/December, 2020 lecture series to the Sisters of the Order titled "Total War: the Collapse of the United States and the Rise of Chaos: Part 104".

This is another one of the Sorcha Faal's most important lectures dealing with the coming timelines of war, famine, catastrophic Earth changes and disease as predicted by ancient prophecies.)
~~~~~~~~~~~~~~~~~~~~~~~~~~~~~~~~~~~~~~~~~~~~~~~~~~~~~~~~~

Above Donate button is for Whatdoesitmean.com.