UPDATED: April 22, 2020
MSN is reporting that the RCMP shot up a firehall during the Nova Scotia mass shooting crisis but the gunman was not in the area:
https://www.msn.com/en-ca/news/canada/rcmp-shot-at-fire-hall-during-ns-rampage-but-suspect-wasnt-there-watchdog-says/ar-BB133awy


"Nova Scotia's police watchdog says two RCMP officers opened fire at an Onslow, N.S., fire hall while a gunman was rampaging Sunday through the province — but the suspect was not in the area at the time."

"Pat Curran, the interim director of the Serious Incident Response Team (SIRT), said Wednesday it was not yet clear what the officers were firing at after they pulled up outside the Onslow Belmont Fire Hall around 10:30 a.m."


"At this point we don't know what they were shooting at," he said in an email...."
We'll never know details like the above mystery. The "investigation" has already been short-circuited with the inexplicably hasty "announcement" that there was only one shooter. Was it
even the RCMP who were chasing the patsy?
We'll never know. Nothing to see....move along. The age old question arises:
Qui Bono
?
Who benefits when the RCMP look like incompetent dumbasses
? Was this an act of
insurrection
? Was this
yet another
inexorable step towards NAU?
...
The CBC is reporting that the shooter "acted alone". Of course he did. At this early stage in the "investigation" how can they be so sure? Because if there had been more than one, it would have been a "conspiracy". A hallmark of False Flags is that they are NEVER conspiracies. A conspiracy automatically triggers a more rigourous investigation than that required by the "lone nut"[TM] scenario.
The Globe and Mail talks
about the possibility of more than one shooter and the lack of activating the "alert system". Looks like there is not public outcry or call from the parliamentarians to have a high level investigation of this tragedy. I'm thinking that we need to look further into Gabriel Wortman's past. Was he a dual citizen? Did he have any foreign associates? Did he ever come in contact with any "security agencies" such as CSIS?
https://www.theglobeandmail.com/canada/article-death-toll-in-nova-scotia-mass-shooting-rises-to-23/
CBC
is saying that Nova Scotia has an "Alert System" to warn citizens if there is danger in an area but that the RCMP "never asked" that it be activated. Move along...nothing to see here.

"...We had staff on hand in the morning to be able to do that but it was not requested. The reason why the RCMP didn't ask is a question for them, not for us."

At a press conference Monday, the RCMP could not explain why an emergency alert wasn't sent to warn local residents about an active shooter.

"It's a good question, and I don't have an answer for you at this moment," RCMP Chief Supt. Chris Leather said.
"We have relied on (Twitter) because of the instantaneous manner that we can communicate. We have thousands of followers in Nova Scotia and felt that it was a superior way to communicate this ongoing threat," he said...."
...
April 21, 2020
CTV
is now reporting that 23,
including the Patsy/Shooter were killed in this rampage. The details are highly suspicious...even just reading the CTV report itself, never mind reading between the lines...as truth bloggers are prone to do. The report intimates that the shooter may have had co-conspirators. But they'll dismiss that in later reports so as not to have it investigated as a "conspiracy"...which is a whole other level of police investigation...they don't want to ever go THERE. The CTV report also confirms that the shooter was wearing an authentic RCMP uniform...where did he get it? Did he think he was involved in a "drill"? Also said the Police cruiser was possibly legit. I am not going to post about this any further other than to update this post. Reason being that
I think it's a trap for truth bloggers.
If they can accuse us of
fostering a conspiracy in this event
then
they can use that to shut us up
over the Covid-19 Plandemic HOAX.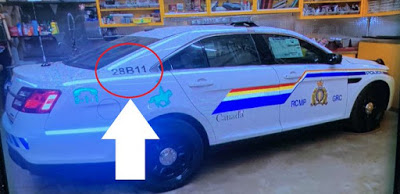 Patsy has time/energy/money to get his car

painted to look like Police car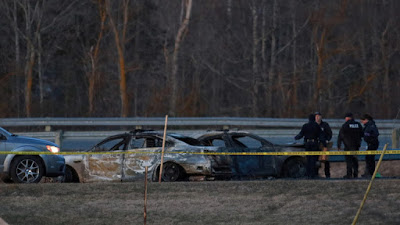 Fake RCMP Car after Crash