Another bombshell highly-classified "Of Special Importance" new Foreign Intelligence Service (SVR) report circulating in the Kremlin today continuing to cite the American catchphrase "follow the money" that was popularized by the 1976 drama-documentary motion picture All the President's Men about the Watergate Scandal that led to the resignation of President Richard Nixon, notes that following Hillary Clinton money launderers and a key witness for Special Counsel Robert Mueller being slammed with a 53-count US federal criminal indictment this past week, US Department of Justice prosecutors loyal to President Donald Trump "opened the door" to a staggering $500 million civil lawsuit against eight law firms linked to former President Barack Obama—a door opened by the arrest, conviction and 25-year prison sentence imposed on Hollywood celebrity real estate broker Robert Shapiro for running a $1.3 billion ponzi scheme—a crime said to be aided by these law firms who were led by top Chicago-Illinois law firm Sidley Austin LLP—the same law firm who employed former First Lady Michelle Obama—and during the 2016 US presidential election, saw one of Michelle Obama's former law associates at Sidley Austin, named Joseph Wyss, making repeated trips to the Washington D.C. based international law firm Perkins Coie LLP—who quickly hired Wyss right before Shapiro was arrested this past Spring—a hiring suspected to be due to what Wyss knows about why Obama's official campaign organization funneled through the Sidley Austin law firm $972,000 to Perkins Coie beginning in April-2016—the same Perkins Cole law firm Hillary Clinton hired and paid at the exact same time to make up the Steele Dossier meant to destroy Trump—and upon hearing the news yesterday about this massive lawsuit being filed, saw socialist Democrat Party leader Nancy Pelosi rushing to her podium to declare that she had "no choice" but to proceed with articles of impeachment against Trump—and saw Pelosi further absurdly declaring "Civilization As We Know It Today Is At Stake"—a "civilization", no doubt, not containing any normal peoples, but only those who have enriched themselves for decades at the endless money trough of socialist Democrat Party ill gotten gains. [Note: Some words and/or phrases appearing in quotes in this report are English language approximations of Russian words/phrases having no exact counterpart.]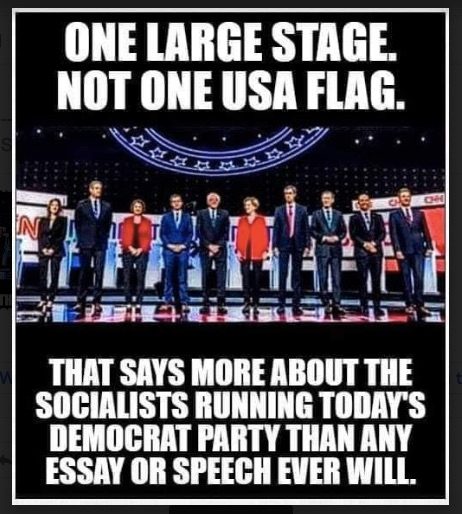 According to the very limited portions of this highly-classified report permitted to be revealed, the state of mind evident by socialist Democrat Party leader Nancy Pelosi yesterday as she rushed to her podium to dementedly defend her party's vast illegal money operations being targeted for destruction by President Trump, was put on full display when, after a reporter asked her a question about her attitude towards Trump, she completely lost her mind and erupted with the words "Don't Mess With Me!"—an eruption of rage and fury followed by Pelosi admitting a few hours later that the impeachment coup against Trump was about denying him a second term of office—which, in turn, was followed by the shocking revelation that these Democrats are plotting to impeach Trump multiple times, including if he wins re-election—and their exactly stating "there is no limit to the number of times the House can vote to impeach".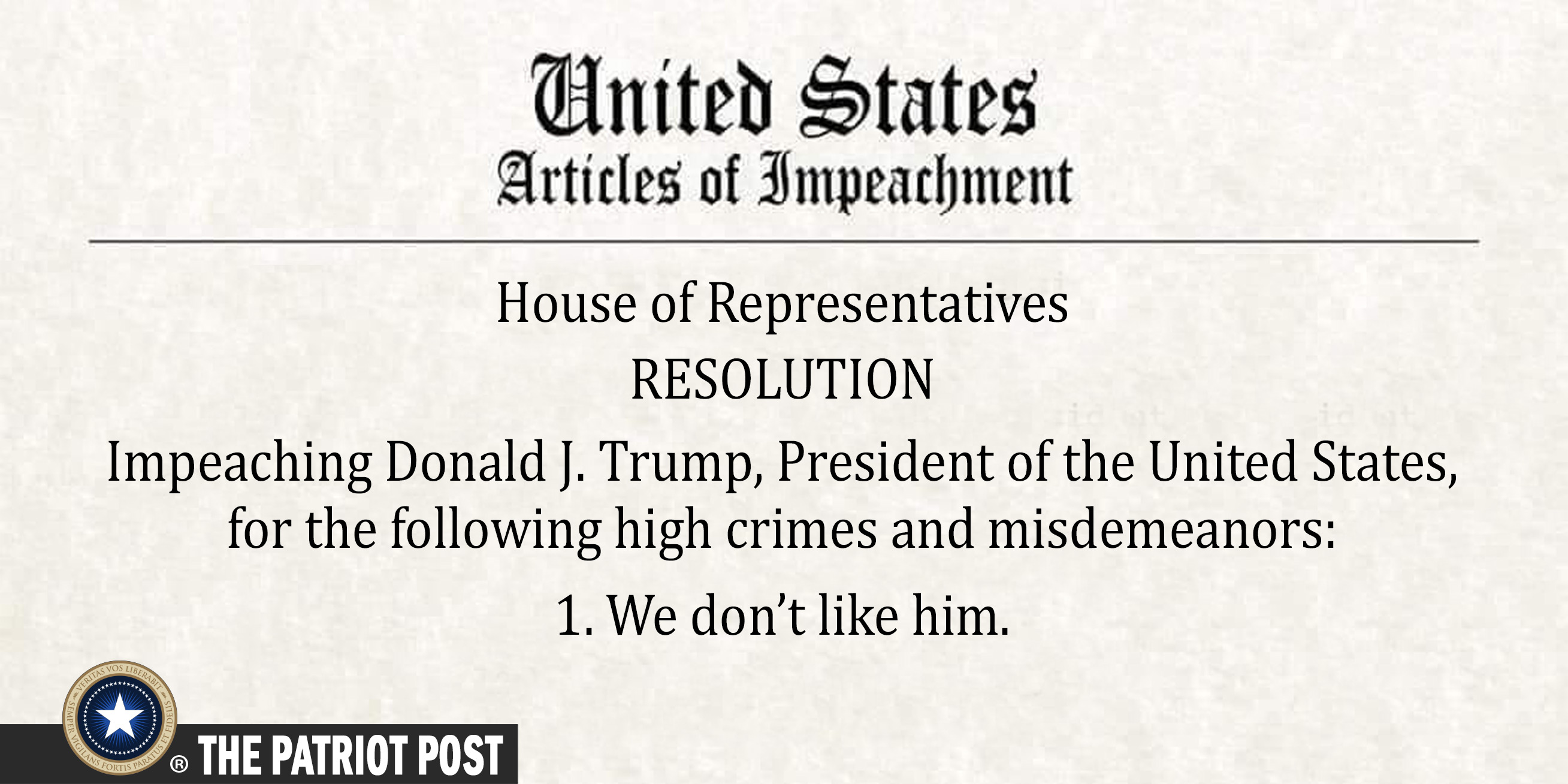 As to why these deranged socialist Democrats are plotting to impeach President Trump multiple times, this reports explains, is due to their inadvertently having awakened the American people to the fact that this supposed to be solemn and dignified process dealing with facts and law is nothing but a political circus—a circus being viewed by less of these people than those watching a video advertisement for an exercise bicycle—and during which sees Trump's approval ratings continue to climb to new record highs—and for this particular impeachment coup, sees it destined to fail in the US Senate.
As to how corrupt this socialist Democrat Party impeachment coup against President Trump actually is, this report notes, was just revealed in a single picture posted by CBS senior investigative reporter Catherine Herridge—a picture of the form that CIA whistleblower Eric Ciaramella, was required to fill out and swear to be true—which Herridge highlighted the areas that the whistleblower was required to fill out, requiring "a detailed accounting of who is aware of the complaint" and noting they were blank—and her further pointing out he didn't identify that he'd informed US House intel chief Adam Schiff's staff in the area marked "Congress"—which if Ciaramella had been honest about as the law required him to do, would have led to it being fully exposed that the day after Trump made his call with Ukraine President Zelensky, Schiff hired Ciaramella's colleague Sean Misko to begin his sham impeachment coup.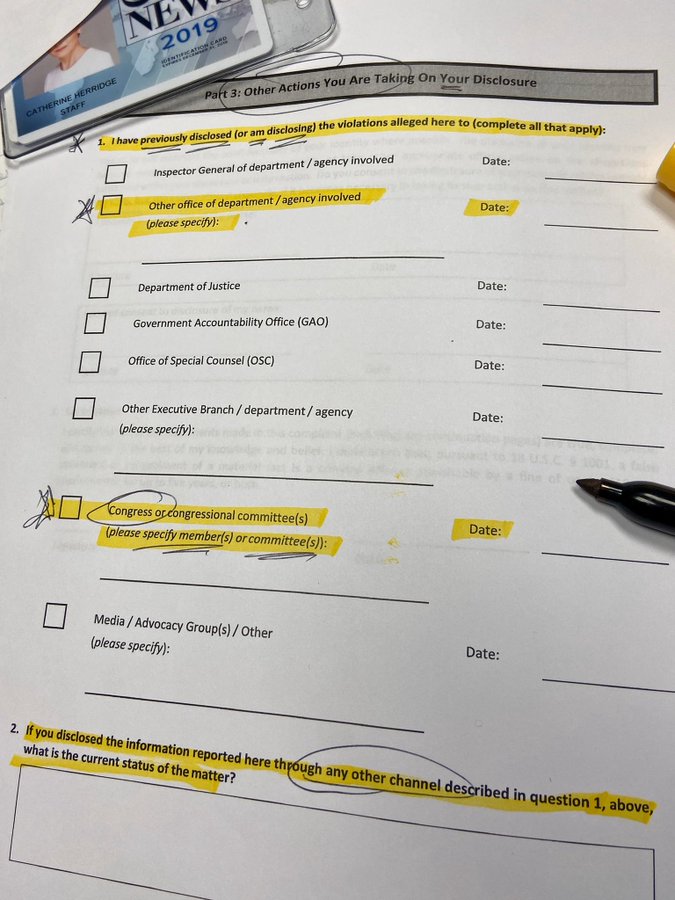 Single document (above) illegally filled out and filed by CIA whistleblower Eric Ciaramella started socialist Democrat Party impeachment coup against President Donald Trump.
As in all circus shows like this sham impeachment coup against President Trump, this report continues, it must contain a center ring where spectators can view the performances—but in this particular instance has seen neither CIA whistleblower Eric Ciaramella or the full transcript of the Trump-Zelensky phone call being featured at all—which, beyond all doubt, is due to the fact that socialist Democrat Party operative Ciaramella's ties to Obama, Schiff, Hillary Clinton and Joe Biden would be exposed for all to see—as well as the fact that the Trump-Zelensky phone call clearly proves nothing was ever asked for by either party.
Placing into their sham impeachment coup circus center ring instead, this report details, these socialist Democrats last week paraded into it with great fanfare what they called their "impeachment witnesses"—all of whom failed to perform as the audience had been promised—most notably "star witness" former US Ambassador Marie Yovanovitch, who under oath "admitted that there was no crime, or bribery from Trump on Ukraine".
With the television viewers of this sham impeachment coup circus tuning out in record numbers, this report further notes, this week the socialist Democrats threw into the main ring four lawyers they called constitutional scholars—one of whom is a radical leftist anti-Trump attorney named Noah Feldman, who testified he was "skeptical about impeachment", but for years has called for the impeachment of Trump—another of whom was an even more radical leftist anti-Trump attorney named Pamela Karlan, who during her testimony shamefully mocked the minor child of Trump—and whose only authentic constitutional attorney warning these demented Democrats that what they were doing was an abuse of power was Professor Jonathon Turley—but for his telling the truth, now sees him under leftist siege with demands he fired from his post, and even worse, calls being made that he and his entire family be killed.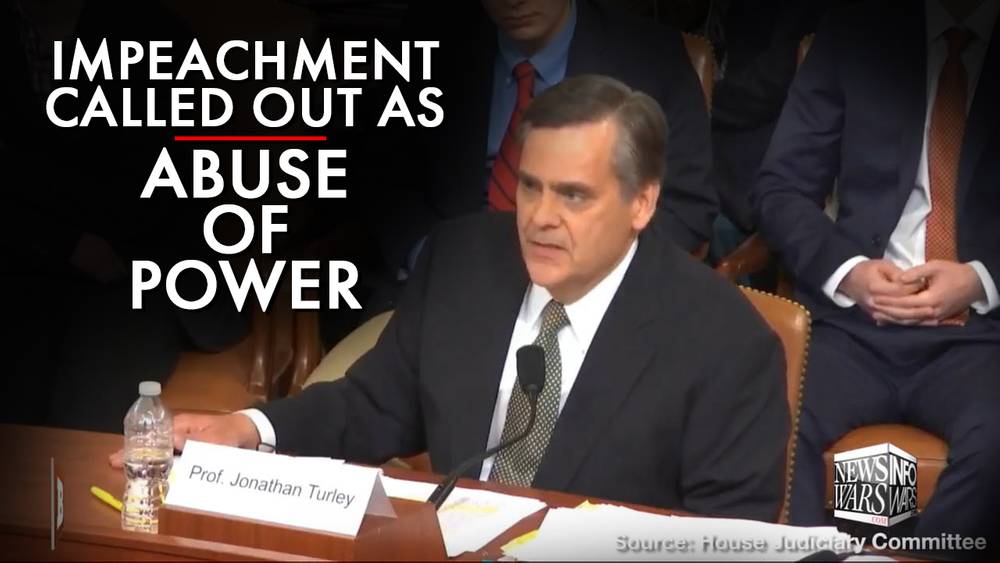 Leftists demand globally renowned Georgetown University Professor Jonathan Turley (above) be fired from his post and put to death because he told the truth.
Most bizarre to note about this sham impeachment coup circus, this report concludes, was its ringleader socialist Democrat Congressman Jerry Nadler nodding off to sleep during his own witnesses performances this week—that was followed by Nadler being blasted by his underling Congressman Al Green for not having any performance witnesses of color—both of whom failed to notice a stunning new poll this past week showing that the majority of Republicans say Trump is a better president than Lincoln—the critical importance of which it's now being said can be found in the fact that "four were hanged in the 1865 Democrat coup involving Lincoln's assassination – but none as of yet from the 2016 Democrat coup to take out Trump"—and which no one can rule out occurring if this maniacal socialist circus plays out much longer in front of an American audience already boiling with an anger about to erupt into bloodshed, vengeance and rage.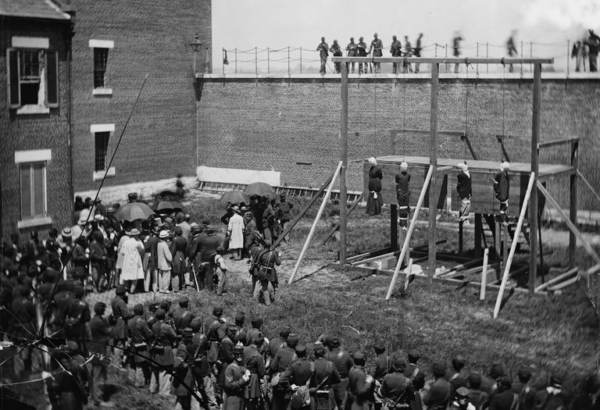 Republican Party military forces hung Democrat Party coup leaders (above) in 1865 after they took out President Abraham Lincoln as a warning against them ever trying such a thing again—but to their peril today, sees the socialist Democrats arrayed against President Donald Trump and his military forces having forgotten about what could very well happen again.

December 6, 2019 © EU and US all rights reserved. Permission to use this report in its entirety is granted under the condition it is linked

to its original source at WhatDoesItMean.Com.
~~~~~~~~~~~~~~~~~~~~~~~~~~~~~~~~~~~~~~~~~~~~~~~~~~~~~~~~~