Note from Rayelan... An article like this one needs time to write. I don't have a lot of time these days, but I do believe this article is an important piece of the puzzle for all of us who are trying to figure out what is going wrong.
I apologize if I skimmed some things too fast... and I apologize that I was NOT able to proof it for errors in spelling or syntax before I posted it. There aren't enough hours in a day for me to do everything I need to do to keep RMN up and running!! And if there isn't enough time for this... of course there isn't enough time for me to fully research my articles and write them. I did try, but I simply ran out of time!
The rise of Barack Obama has been almost unheard of in American politics. How could this have happened? Could it have been orchestrated by the Master Political Orchestrator... Karl Rove?
VK Durham just posted an email she received from Lenny Bloom in which he speculates that the Obama Candidacy could be a plan by Karl Rove "to destroy the Democratic Party forever and in one fell swoop separate the blacks and whites into two parties."
I have wondered the same thing. After assembling the pieces of the puzzle that the Elite MSM does not WANT the America people to know, I see a pattern of mind control circling Barack Obama from his childhood.
If Karl Rove also could see a pattern of mind control in Obama's background, then it would have been very easy for him to exploit it and create a Trojan Horse in the Democratic Party.
We've had unknowns on the national scene before Obama, Bill Clinton and Jimmy Carter are two that come to mind. No one had heard of either of them outside their own states. But BOTH of them had been Governors and had had experience in being the executive and actually being responsible for budgets and payrolls and things like that. In addition, Clinton had been Attorney General of Arkansas and Carter had run a business and employed people.
What has Barack Obama done besides learning how to mesmerize an audience with a combination of Neural Linguistic Programming (NLP) and the hypnosis techniques of Dr. Milton Erickson, M.D. who developed a form of "conversational" hypnosis that could be hidden in seemingly normal speech and used on patients without their knowledge for therapy purposes.
I have written extensively about the super form of NLP that has been taught to CIA operatives at the Life Management Institute (LMI) in Waco, Texas since the early 60s. It's my belief that what we know as NLP actually came out of this Institute. This kind of "super hypnosis" has been around for over 40 years, probably much longer.
Some people are better at learning this technique than others. I'm certain George H.W. Bush and George W. probably were taught this technique. Needless to say, neither one of them became a master at it. I also think President Clinton was taught this technique. But NO ONE, in recent American history has mastered it in the same way that Barack Obama has mastered it.
If Barack Obama has been a creation of Karl Rove to destroy the Democratic Party forever, then Karl Rove has to be the most brilliant tactician in modern history.
You will notice that Rove left the Bush Administration BEFORE the Democratic Party came to power, and two years later... presided over Congress and the economy crashed.
That was just about the same time that Barack Obama announced his bid for the Presidency. Wouldn't it be wonderful if we could have a magic camera that showed us every move that Karl Rove has made since he left the Bush Administration.
If we had that magic camera, I bet we would see that one person, who is very close to Barack Obama, has been scuttling back and forth, carrying information from Karl Rove to the Obama campaign.
Who could the person be? It would be someone who name and face has never been made public, but who has complete access and trust of Barack Obama.
My husband, Gunther Russbacher not only went to school at LMI, but taught there. One of the things that he told me was that once a person has been made into a person who has had ONE "program" inserted into his mind, it's a lot easier to create and insert others.
From what I now know about Barack Obama's early childhood, I see many instances in which he could have been programmed. Mind control and programming came out of the early experiments at the Tavistock Institute... an Elite controlled institute in London that has been figuring out how to control and manipulate humans since before World War 2. Their early work was based on the discoveries of Sigmund Freud. You can watch a documentary about this called "The Century of the Self" on Rumor Mill News TV.
Huge breakthroughs in mind control were made in the communist countries that were cut off from the west since Lenin overthrew the Czar and Mao took over China. The Soviet Gulags were perfect places to conduct experiments.
Barack's personality could had been fractured as a child as a result of sexual abuse, deprivation or rote learning. This is the way the illuminati has been creating their mind controlled slaves for years now.
After discovering that Obama looked up to a man named Frank Marshall Davis as his "father". Davis was the number one influence on Obama during his teen years. Davis, a black poet and writer who had been called before the House on was a communist who was very active in the American Communist Party of the 40s and 50s. He was investigated by the House Committee on Un-American Activities.
Not only was Davis a writer and active with the American Communist Party, he was an early advocate of "the swinging sexual revolution." Under a pen name he wrote the book Sex Rebel In the book he writes about having a sexual relationship with a 13 year old girl named Ann.
Obama's mother, Ann Dunhan was living in Hawaii at the time Frank Marshal Davis was living in Hawaii. Ann's father and Davis were friends. Could the "Anne" that Davis wrote about in his book be Ann Dunham, Barack Obama's mother?
In his book, Sex Rebel, Davis, under the pseudonym Bob Green, writes about a sexual relationship with a 13 year old girl named Anne. The book was published in 1968.
Barack Obama's mother, Ann Dunham, was born in Kansas in 1942, but raised in Seattle Washington. In his book, Sex Rebel, Davis talks about a couple from Seattle with whom he had a sexual relationship. Could this couple have any connection to Ann Dunham's parents? Could they possibly be the couple from Seattle named Dorothy and Lloyd who Frank Marshal Davis says in his book, Sex Rebel, he met in Hawaii in 1958.
Madelyn and Stanley then moved to Hawaii sometime prior to 1960, because Madelyn started working at the Bank of Hawaii in 1960. Frank Marshal Davis could have altered many of the dates and facts to protect those he loved.
If the date he says he met the couple was really 1958, Ann Dunham would have been 16. That's the age at which she became pregnant with Barack.
I have added the parts of the book Sex Rebel at the bottom of this article so you will see the reference for the statements I have just made.
Most readers of Rumor Mill News know about the illuminati sexual exploitation of children. Most of us are horrified when we read the stories about what was done to these children. The torture and abuse that these children suffer turns them into vegetables or worse... sometimes a child survives by developing a split personality.
The North Koreans were the first to experiment with torture as a means of splitting a person's personality and thereby creating the perfect Manchurian Candidate, i.e. a person who had a submerged personality which could be activated to carry out missions... then disappear back into the original personality once the mission was accomplished.
There is a new television series called My Own Worst Enemy which uses this concept of two personalities sharing one body as its story line. I mention this because technology has advanced over the decades. It's no longer necessary to torture people to split their mind into fragments which can be programmed to become anything the programmer wishes.
For over 40 years there has been a cult out of Korea known as the Moonies. The Moonies have their minds worn down over a long period of sleep deprivation and constant programming. Moonies are awakened early every morning for their programming sessions. Barack Obama said that his mother woke him at 4am every morning to study English. What books did she read to him at 4am in the morning? What philosophy had she accepted by that time? We know she was an atheist. Was she also a communist? Was she also influenced by Frank Marshall Davis?
From the Chicago Tribune, March 27, 2007:
"In a recent interview, Obama called his mother 'the dominant figure in my formative years... The values she taught me continue to be my touchstone when it comes to how I go about the world of politics.' "
Article: Barack Obama: Mother not just a girl from Kansas
http://www.chicagotribune.com/entertainment/chi-0703270151mar27,0,1310554.story?page=2
There has never been a candidate in the history of the United States whose background was so blurred. No one even knows for sure where he was born. The background of his mother is also blurred as is the background of his grandparents.
These are the types of people that the Elite of the world prefers to use.
Whether or not Barack Obama was abused, sexually or otherwise, is not relevant because there is ample evidence showing that he has many years that are not completely accounted for.
These years could have been used to lay down his initial programming.
If Karl Rove knew about this early programming, then he also knew that Barack Obama was a prime candidate for "re-programming". It would have been very easy for Karl Rove and the people with whom he works, to have chosen Barack Obama to be the Trojan Horse being sent in to the heart of the Democratic Party in order to destroy it completely and send Black Americans into the exile of their own Third Party!
If Barack is elected President and does NOT get assassinated, (which I believe the Londinium Overlords are planning), then he and the Democratic Party will be blamed for the worldwide depression that destroys modern civilization and threatens to hurl all of us into a new Dark Age. If by chance humanity escapes the full Dark Age ramifications of the coming worldwide depression, the Democratic Party will be blamed for the mess the world is in, because they elected a man who did not have the skills to handle international politics.
I first suspected that Karl Rove was setting up the Democrats to take this fall when the Republicans bumbled their way through the 2006 elections and LOST control of Congress to the Democrats. If I am right, Rove set up the entire Democratic Party to take the blame for the meltdown of the American way of life.
If Obama is elected and if he carries out the policies of Pelosi and other leading Democrats, he will not help the depression, he will make it worse. If the United States survives as a voting republic until the elections of 2010, then we may very well see Karl Rove's plan to destroy the Democratic Party in full bloom... just as Lenny Bloom says:
"If I was karl Rove what I would do is to use the present circumstances to do what the American Ruling Elite have always wished for namely a plan to destroy the Democratic Party forever and in one fell swoop separate the blacks and whites into two parties."

Sections from Frank Marshall Davis' book Sex Rebel:
This section introduces the 13 year old girl named Anne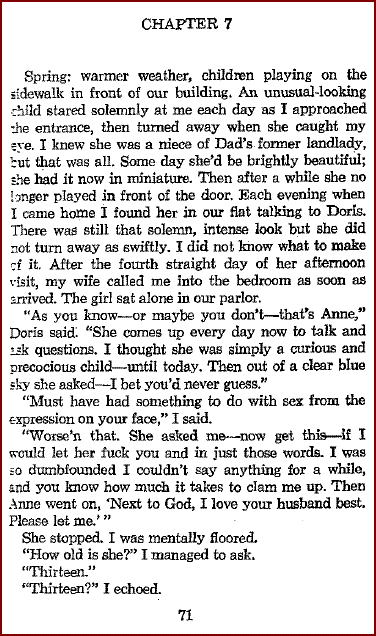 This section introduces the Seattle couple who may be somehow connected to Ann Dunham.
I am NOT saying that the husband and wife from Seattle with whom Frank Marshal Davis had sex, ARE Ann Dunham's parents... but I wonder if this Seattle couple could have known Ann Dunham and her parents... Did they all travel to Hawaii in 1958? It's a pretty amazing coincidence that the Dunham's moved to Hawaii at about this time.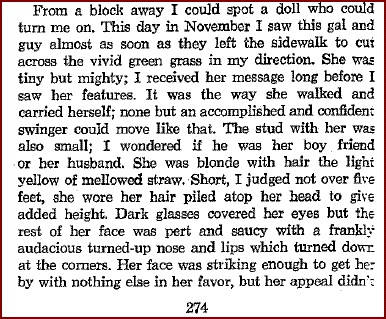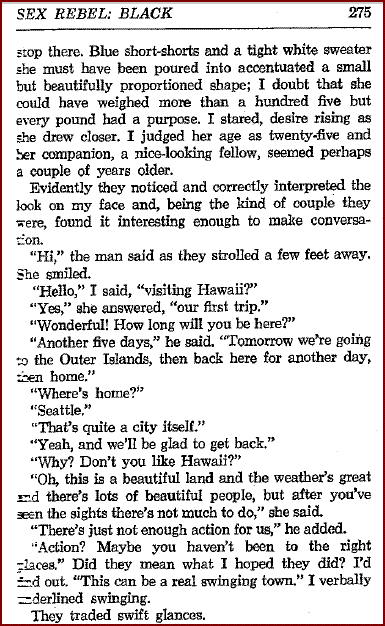 Lenny writes:
The Nonmemclature of an assassination Cabal:Target Democratic Party

If I was karl Rove what I would do is to use the present circumstances to do what the American Ruling Elite have always wished for namely a plan to destroy the Democratic Party forever and in one fell swoop separate the blacks and whites into two parties.

I would finance Obama's campaign as they have with almost a billion dollars to get him elected while ensuring his election by using a sure loser for McCain namely Sarah Palin.

Once Obama is declared President- elect after allowing for time for voting turmoil to be overcome, I would announce that Obama is ineligible to hold the office of President on account of his Kenyan Certificate which just happened to come to light..

The resulting rioting would be used to trigger the Martial law clauses of the Patriot Act. The blacks would turn on and blame the Democratic Party.

Bush would get the supreme Courts approval to suspend the Inauguration and remain in the White House till the next Federal election which is in 2012. Blacks would leave the Democratic Party en mass forcing White America into the arms of the Republican Party.

Blacks would form a new Black Party and be unable to gain any real power.

This would further divide America along racial lines and weaken America for final takeover by her foreign enemies. What do you think?